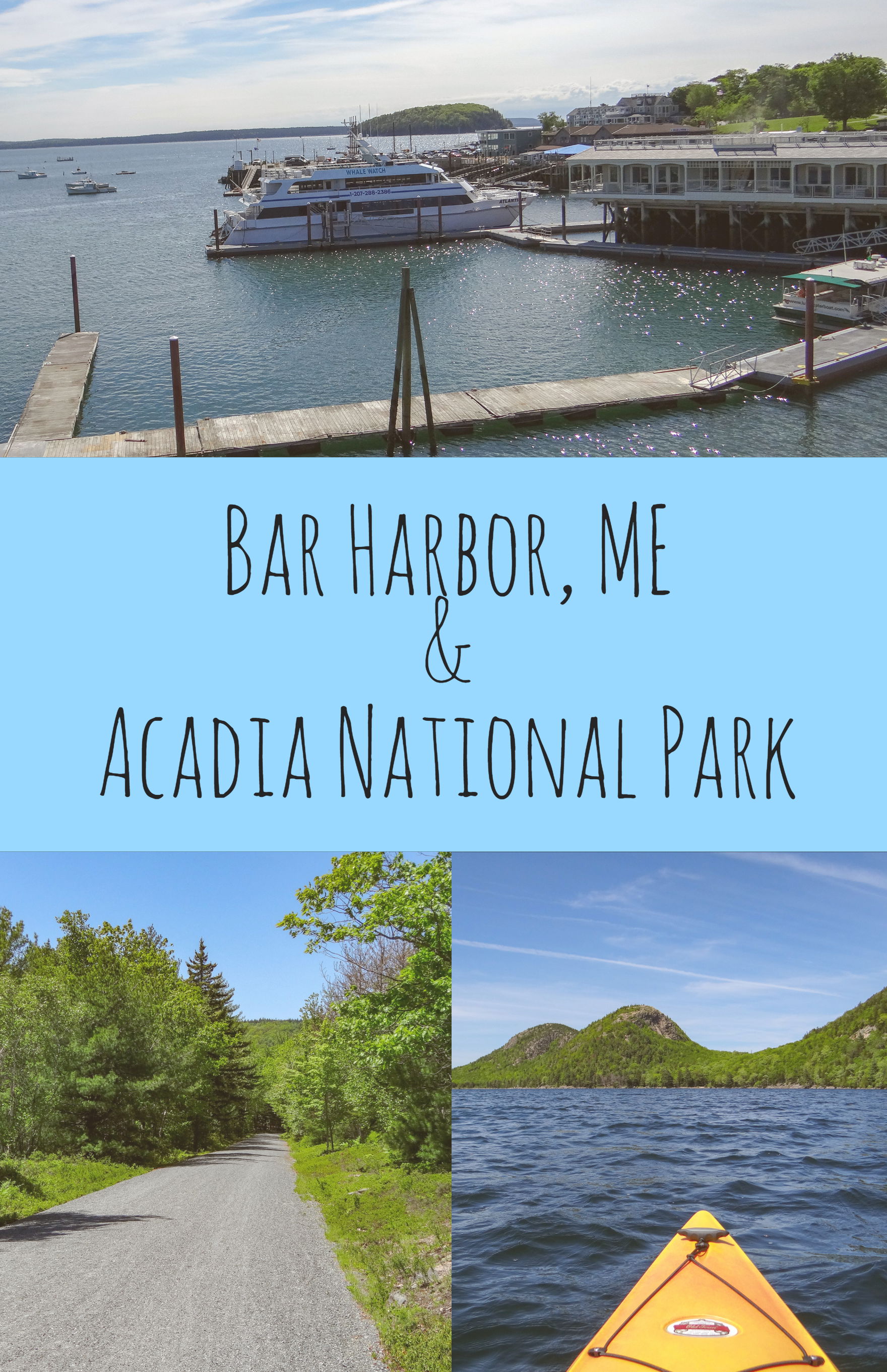 I love Bar Harbor. It is a beautiful picturesque town with lots to do! We have visited in both the months of May and June. We decided to visit in these two months because the prices were lower. June is right at the start of their summer travel season. Prices for your hotel rooms will be much higher if you visit July-September.

Here is a quick list of pros and cons to traveling in the month of May and June.

Pro's
1. Less crowded in town and in the park.
In Acadia National Park there were moments where we felt like we had the park to ourselves. It had a very intimate and secluded feeling to it. Which I love! In town, we were able to eat at any restaurant without any wait! I also felt safer riding our bikes we rented on the street because there was less traffic.
2. Cheaper hotel prices.
We compared hotel prices for June and July and the prices were much cheaper in June. For the peak season, you will pay anywhere between $200-$300 more a night!
3. Fewer people in the hotel pool
I should just say fewer people in general. On some days you will have the hotel pool all to yourself!
4. Employee's and waitstaff are at the beginning of their work season.
This may sound like a weird pro, but hear me out. The majority of workers are coming in from out of state and even from out of the country for summer work opportunities. They are excited and genuinely seem happy to be there. They aren't yet burnt out from the peak season rush.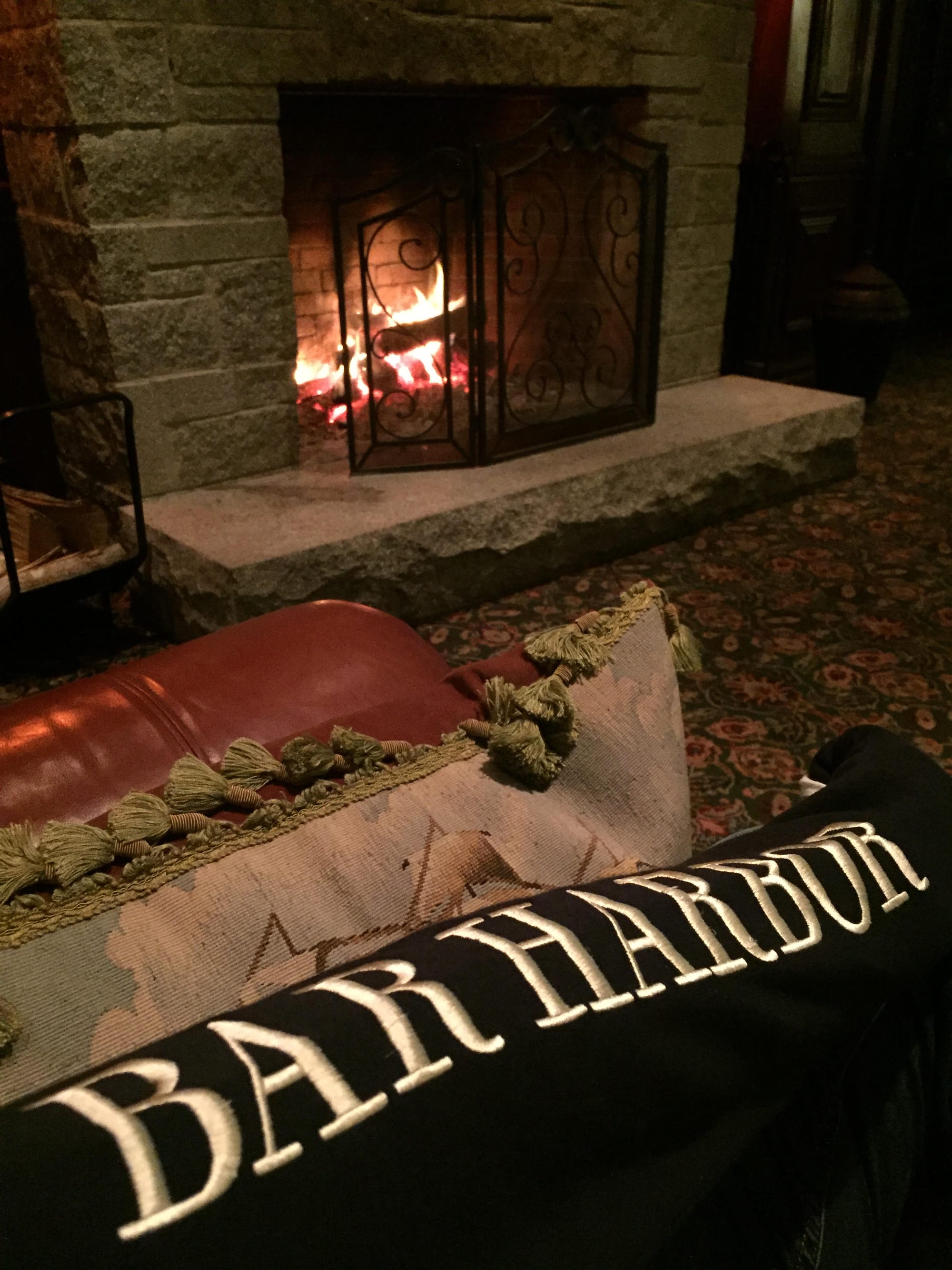 Con's
1. The weather can be rainy and even cold.
In the sunshine during the day was beautiful. Temp's maxed out around 70 degrees. At night it was very chilly. Jeans and hoodie weather. But I enjoyed experiencing the differences. You just have to pack more things (warm weather and cold weather clothing). Several times after dinner we sat next to the hotel fireplace while we ate some kind of dessert and it was so cozy! I enjoyed it. It was rainy for several of the days we were there and that caused for very chilly days. The rain didn't stop us from hiking and it actually made for peacefully quite walks in the park.
2. Summer workers are in training.
Pretty much everyone was in training. Keep in mind the vast majority of workers come from out of town for the summer season. At times you had to wait on your order, but we never actually had bad service! If you aren't a very patient person though this could be annoying.



We flew in from Oklahoma to Boston, MA. We fly with Southwest Airlines because we have their credit card and we earn points to fly for free. We wanted to fly into Portland, ME because the drive would have been shorter but there weren't any good flights for the days we wanted to travel. The drive from Boston to Bar Harbor in our rental car took about 5 and a half hours with traffic.
We have stayed at the Harborside Hotel & Marina for two different occasions now and I love this hotel!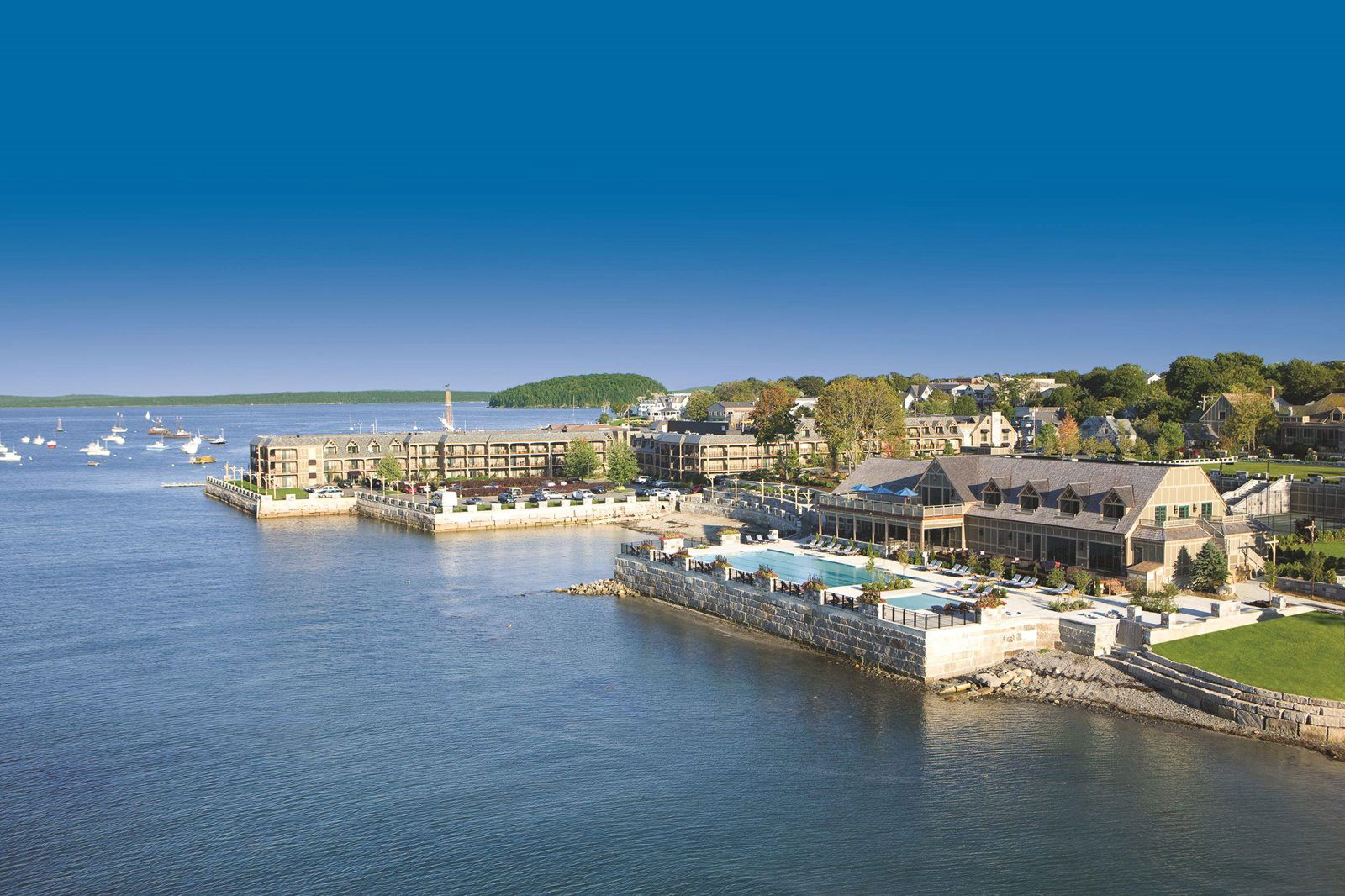 Click photo for more information! One of the reasons we choose this hotel was because it is literally steps to the Bar Island access. Bar Harbor gets it's name due to the "bar" that forms at low tide. When the tide is out you can walk to the neighboring island to explore. But keep an eye on the tide schedule because it comes up pretty fast and you don't want to get stuck on the island!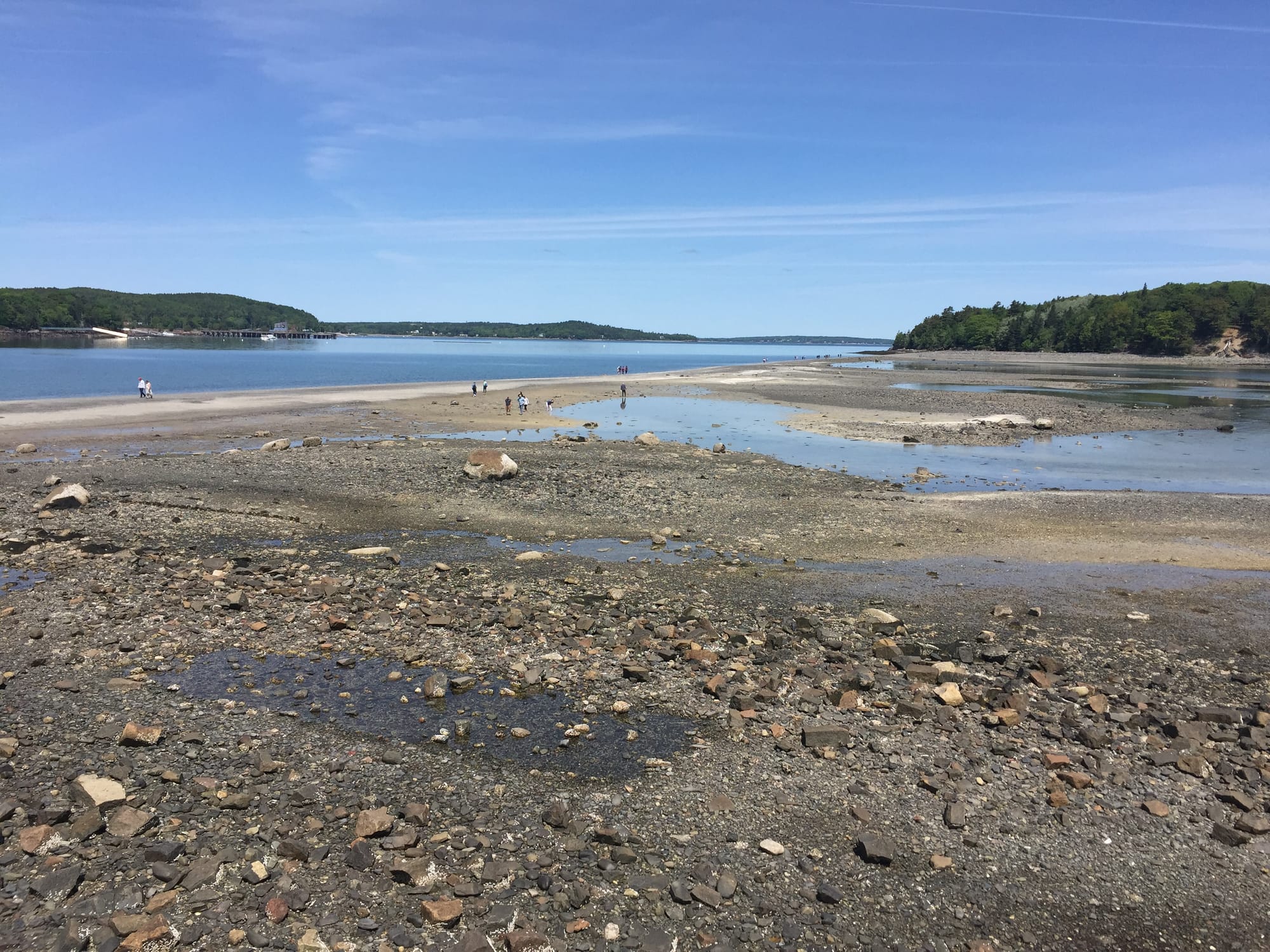 These two photo's were taken at the same spot but different times!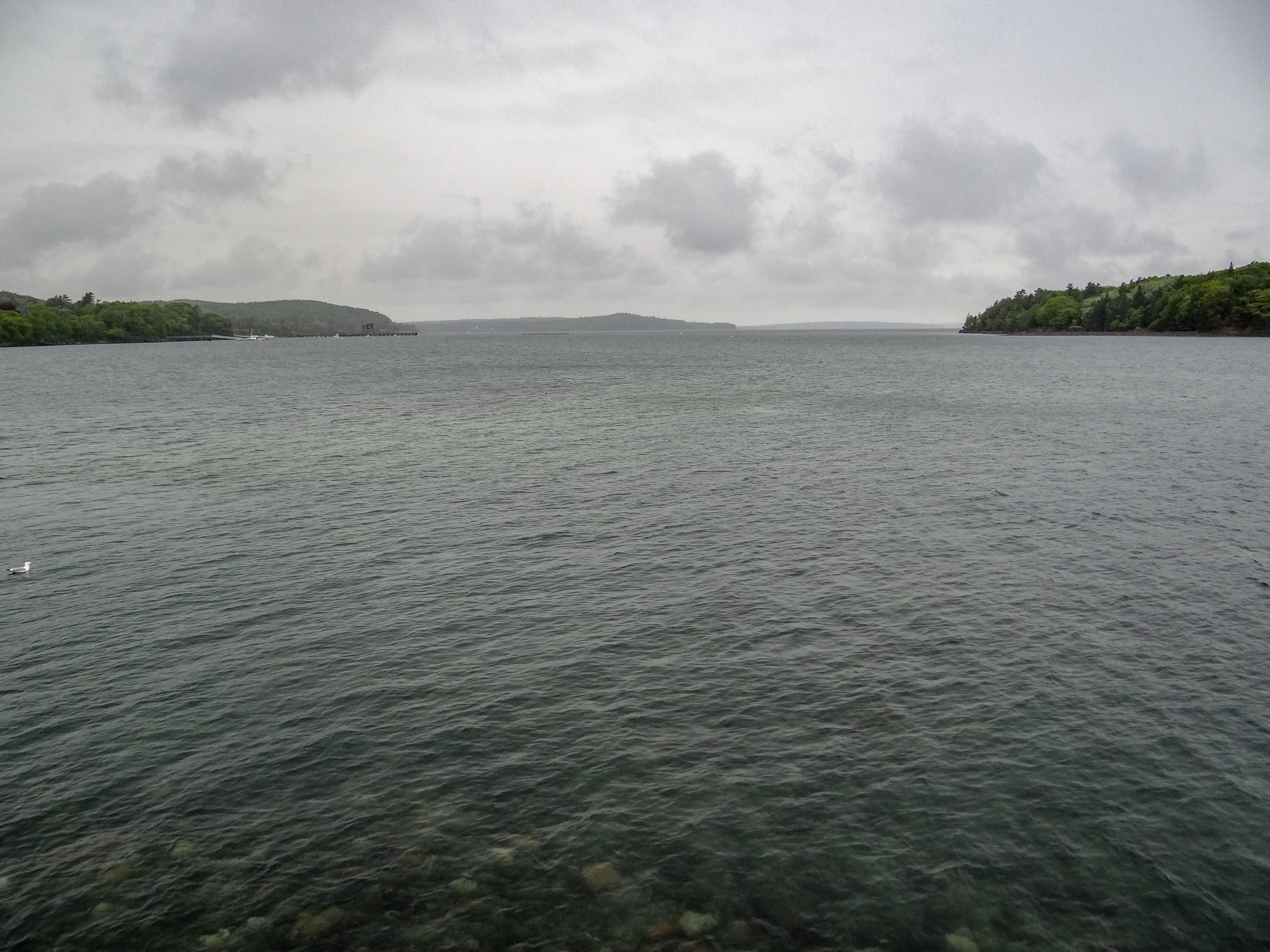 The breakfast at our hotel was AMAZING!! Every morning we looked forward to walking down stairs to the restaurant. They had a great variety of items on the menu to choose from. Our favorite was the stuffed french toast! Yum! The coffee, cappuccino, and espresso they offer was also delicious!!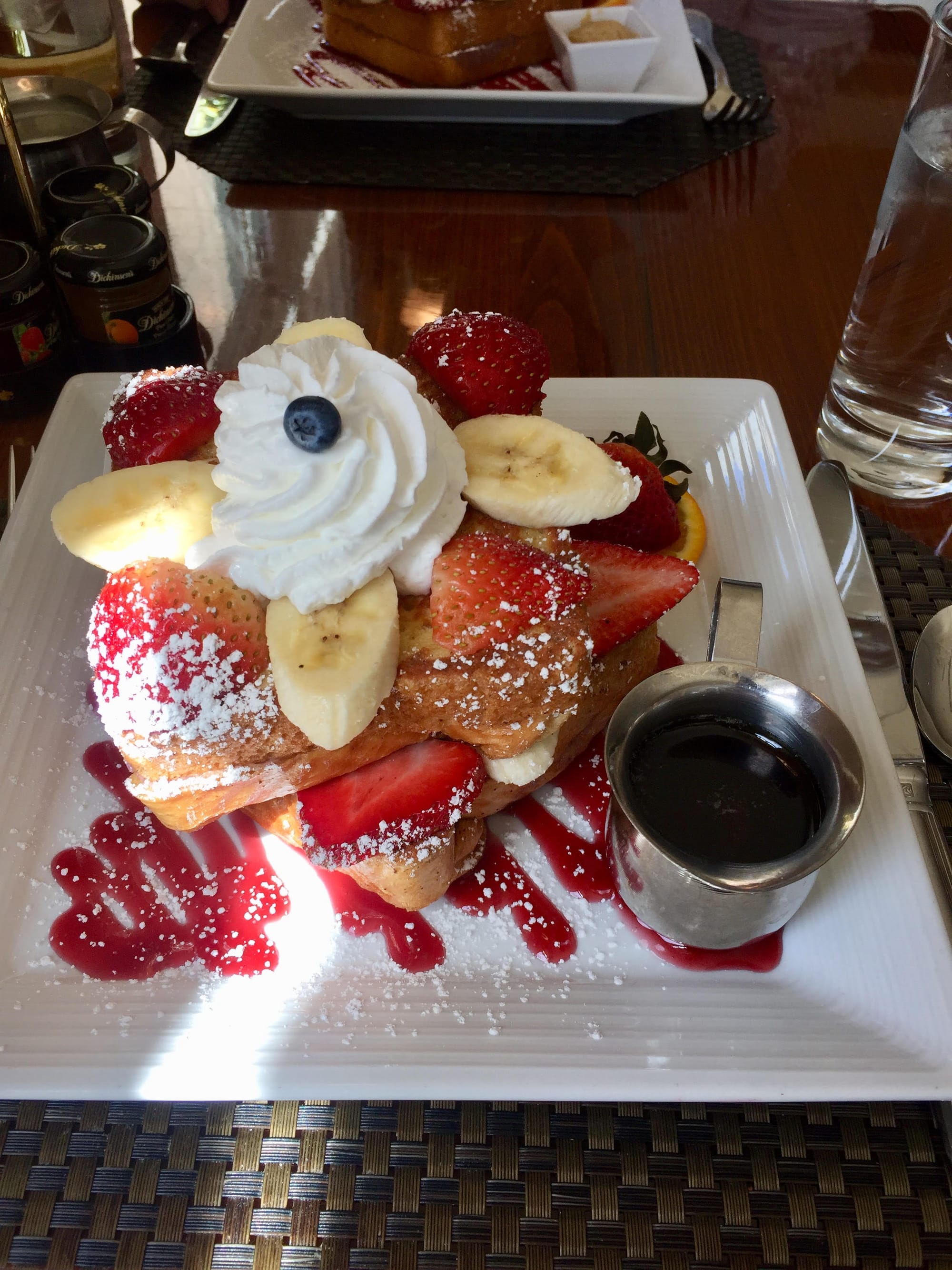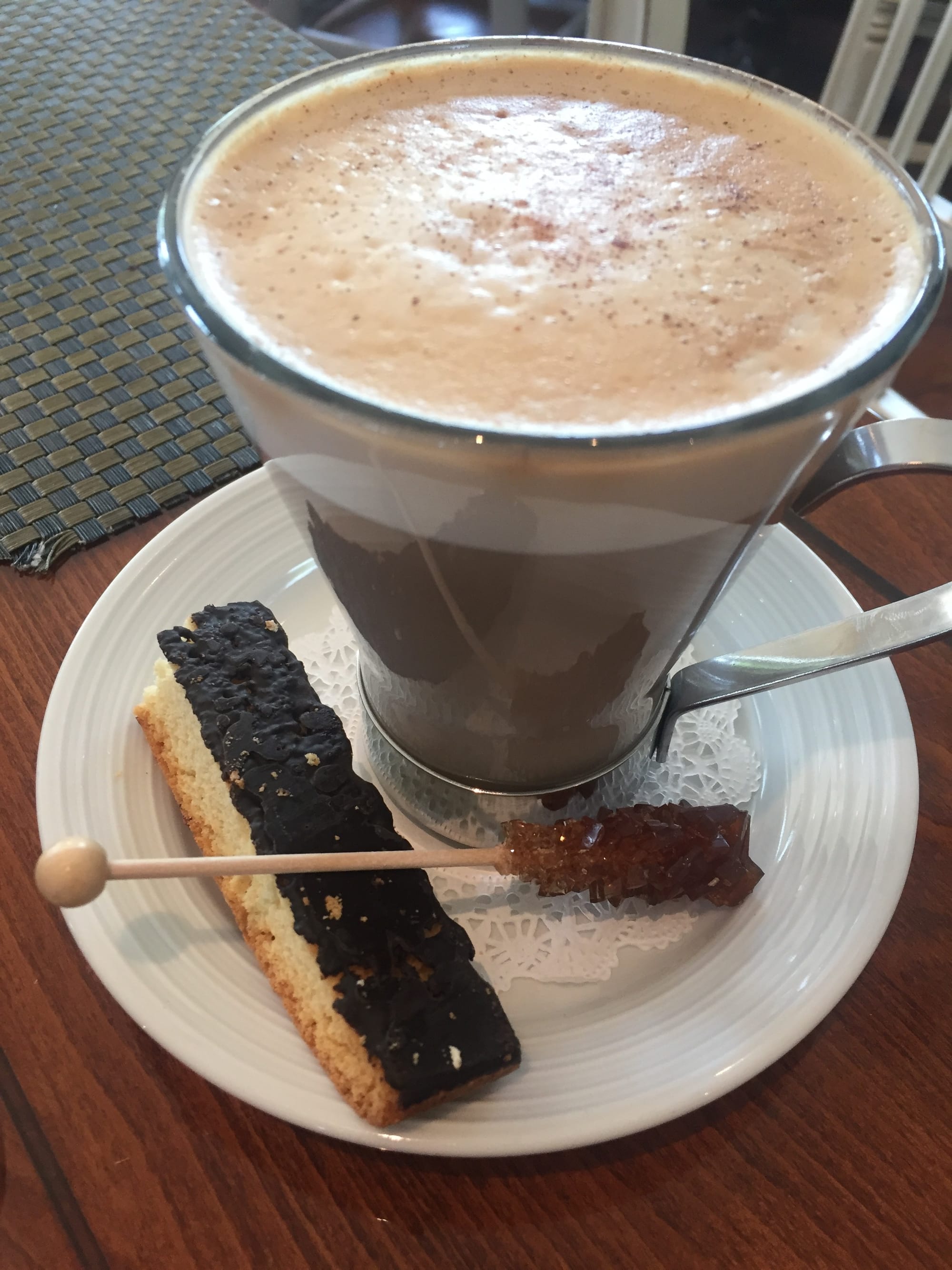 The room we initially booked was a harbor view room because I was thinking it would look directly onto the harbor but when we got to the room we realized the view was looking over the hotel pool with the harbor in the distance. I wasn't too thrilled with that because I had my hopes up for more of a direct harbor view. We asked if we could upgrade our room for something better. They were very nice and helped to upgrade us to an ocean view room which looked directly over the harbor. I was much happier with that view!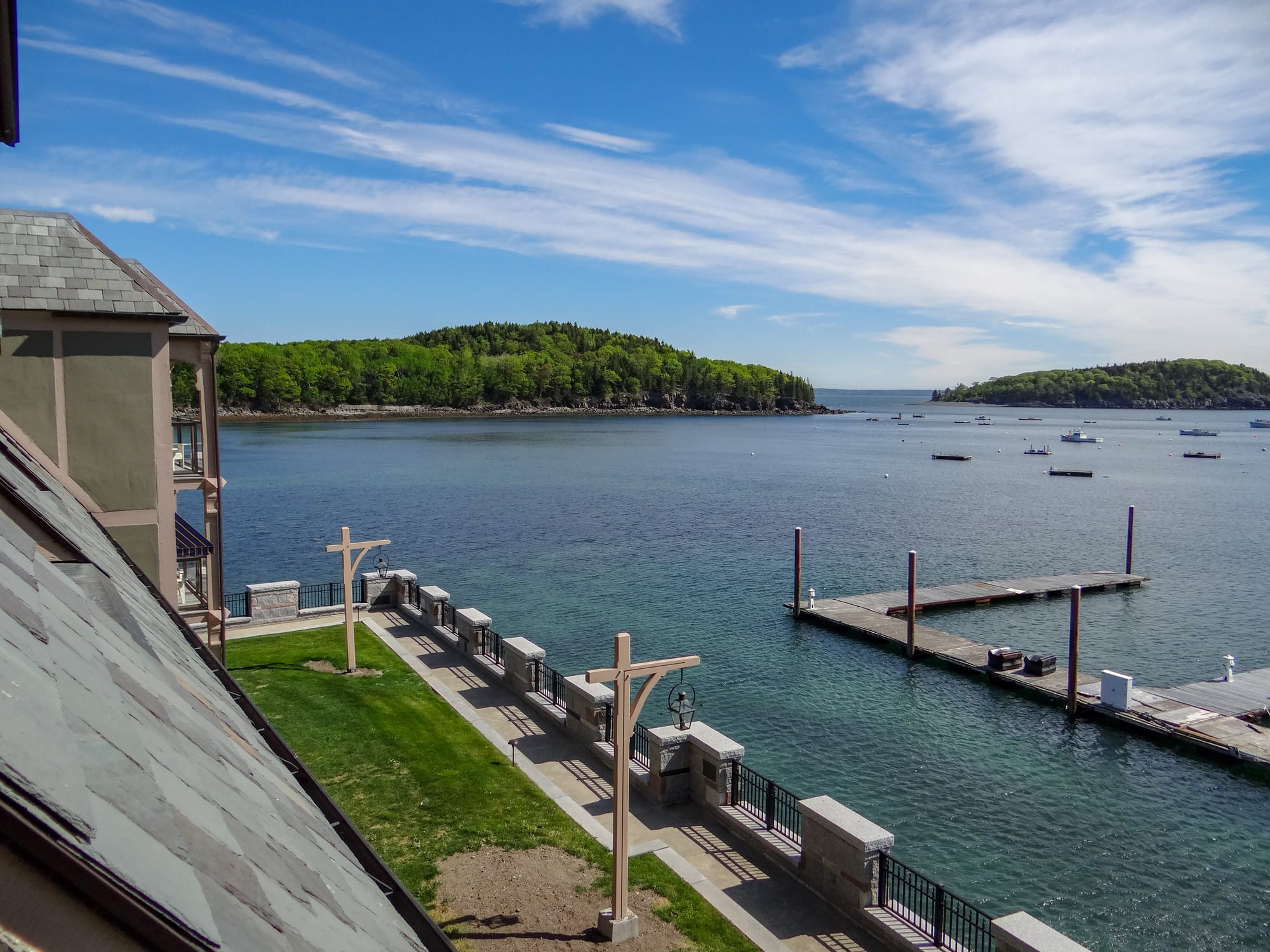 That first night we walked to the grocery store for trail mix, snacks, and bottled water. You will be glad you made time to do this when you are out on the trails! We also bought a bottle of wine for our hotel refrigerator.
Our second day we booked a morning sea kayak tour with Coastal Kayaking Tours. www.acadiafun.com The employees were awesome! Everyone was very friendly. Unfortunately, once we made it down to the shore they decided to cancel the tour due to the strong ocean currents. It was a bad week for ocean excursions because the whole time we were there the ocean swells were too large to get out on. Even the whale watching tours were canceled (every day; I know because each morning we called to check). So instead of kayaking, we decided to rent bicycles. The same company has bike rentals at their location but information can be found under the name Acadia Bike. www.acadiabike.com
We rented two comfort style bicycles which is the most amateur style bike they offer. They gave us a small map of how to get out of town and explained to us how to access the closest carriage trail in the park. We rode our bikes through town and up the road that leads to the trails. If we were to do this over again we would have also rented a bike rack for our rental car. By the time we actually made it to the trails, I was exhausted! If you are out of shape like I am you will not want to waste your energy biking up to the park. Instead, get a rack for your car or take one of the buses into the park. You will thank me!
The carriage roads are amazing! They are beautifully maintained and they are a perfect way to easily see the park. We used a small pocket guide called The Carriage Roads of Acadia National Park. When describing where we biked and hiked I will use this guide as a reference. We used it continuously throughout the park. It is a perfect size and fits easily in your pocket! Hints the name: pocket guide haha. Here is an Amazon affiliate link for it:
We biked all the way around Eagle lake which is at intersection numbers 6-9. The bike ride was pretty relaxed. There were moments where it was strenuous, but keep in mind I'M OUT OF SHAPE hahaha! The view was stunning and we had so much fun. We took our time and made lots of stops at different viewpoints for a water breaks and snack breaks. Because we came and the beginning of the travel season we were able to enjoy the trails almost all by ourselves. It was wonderful!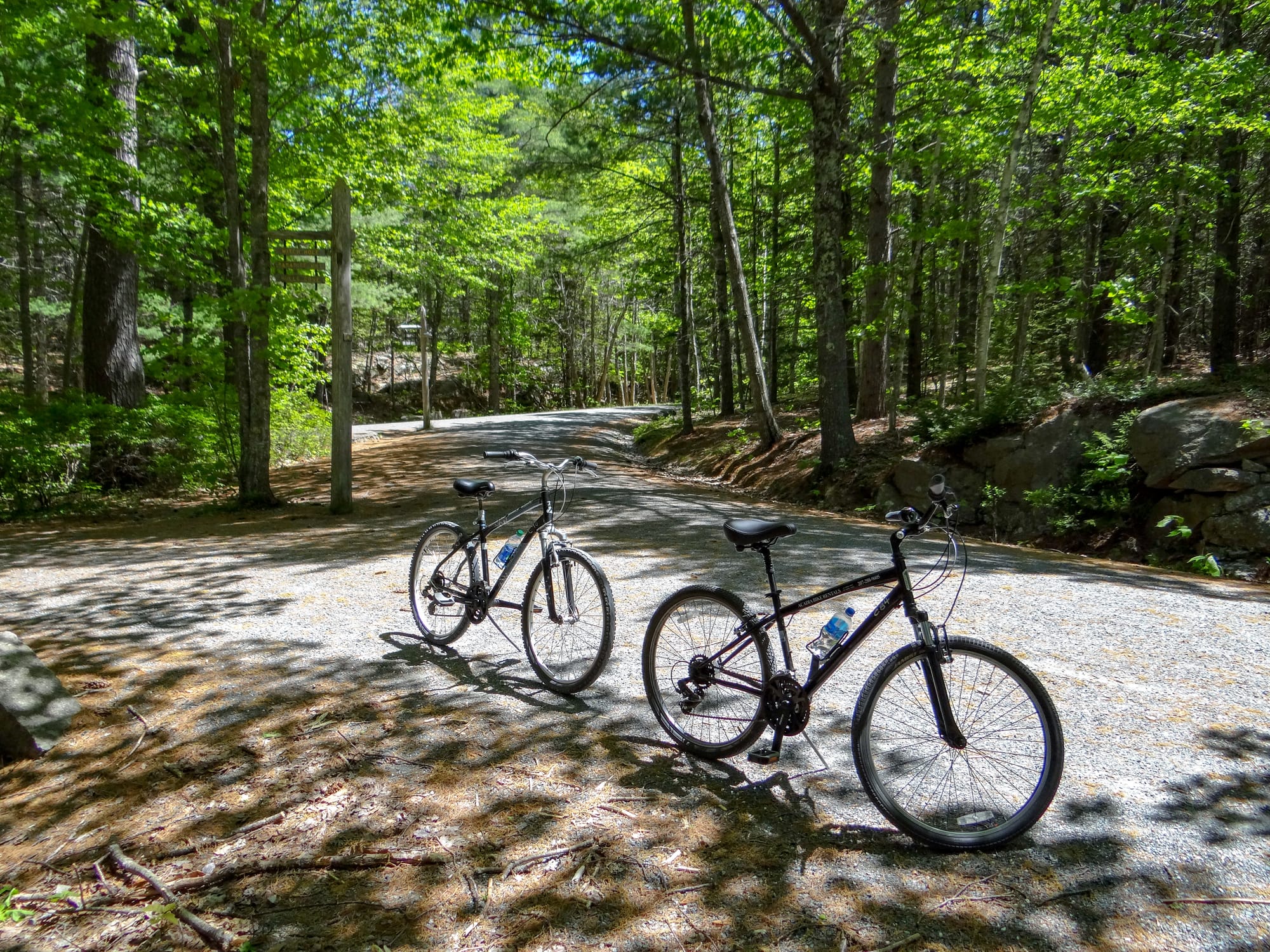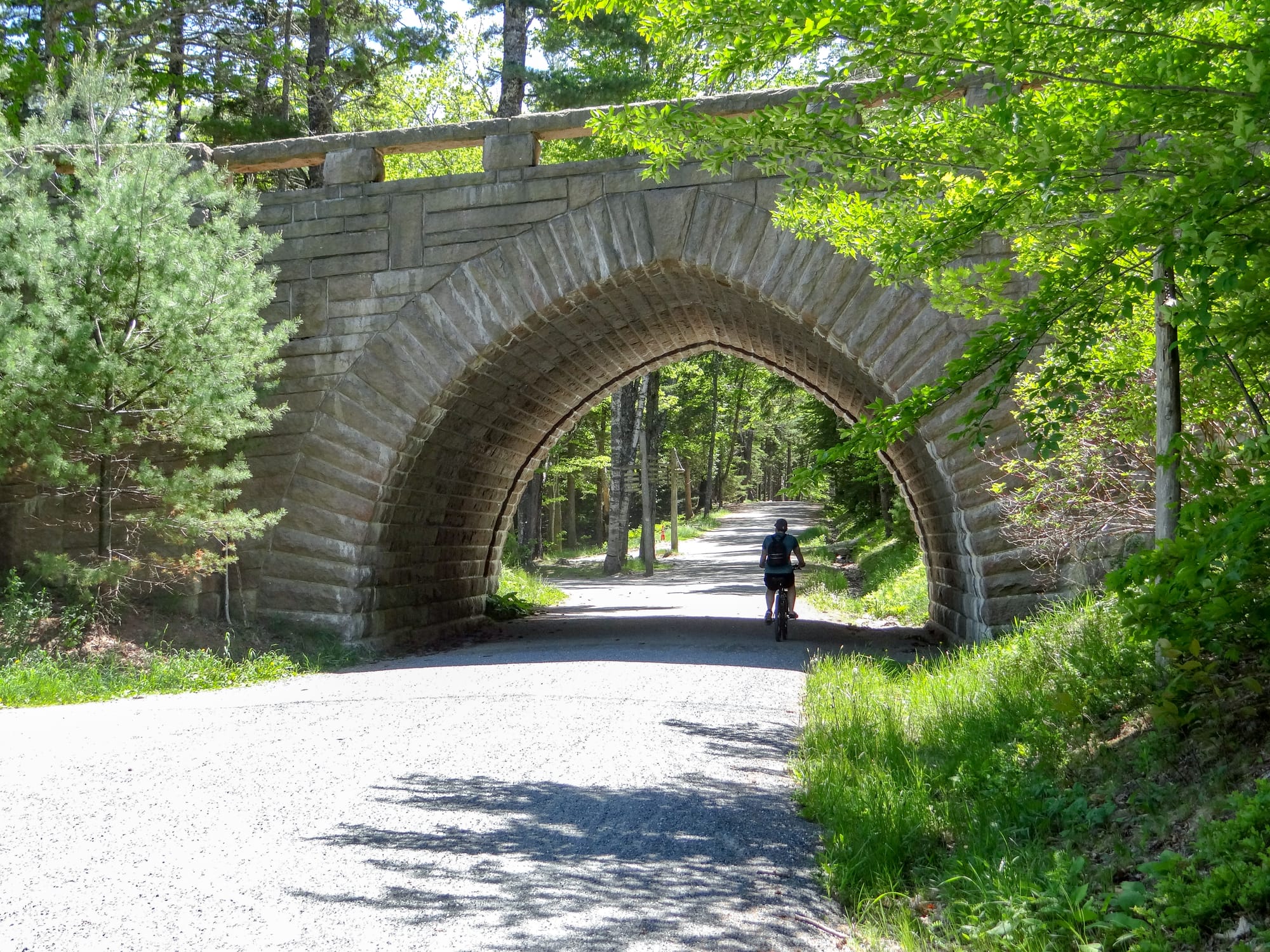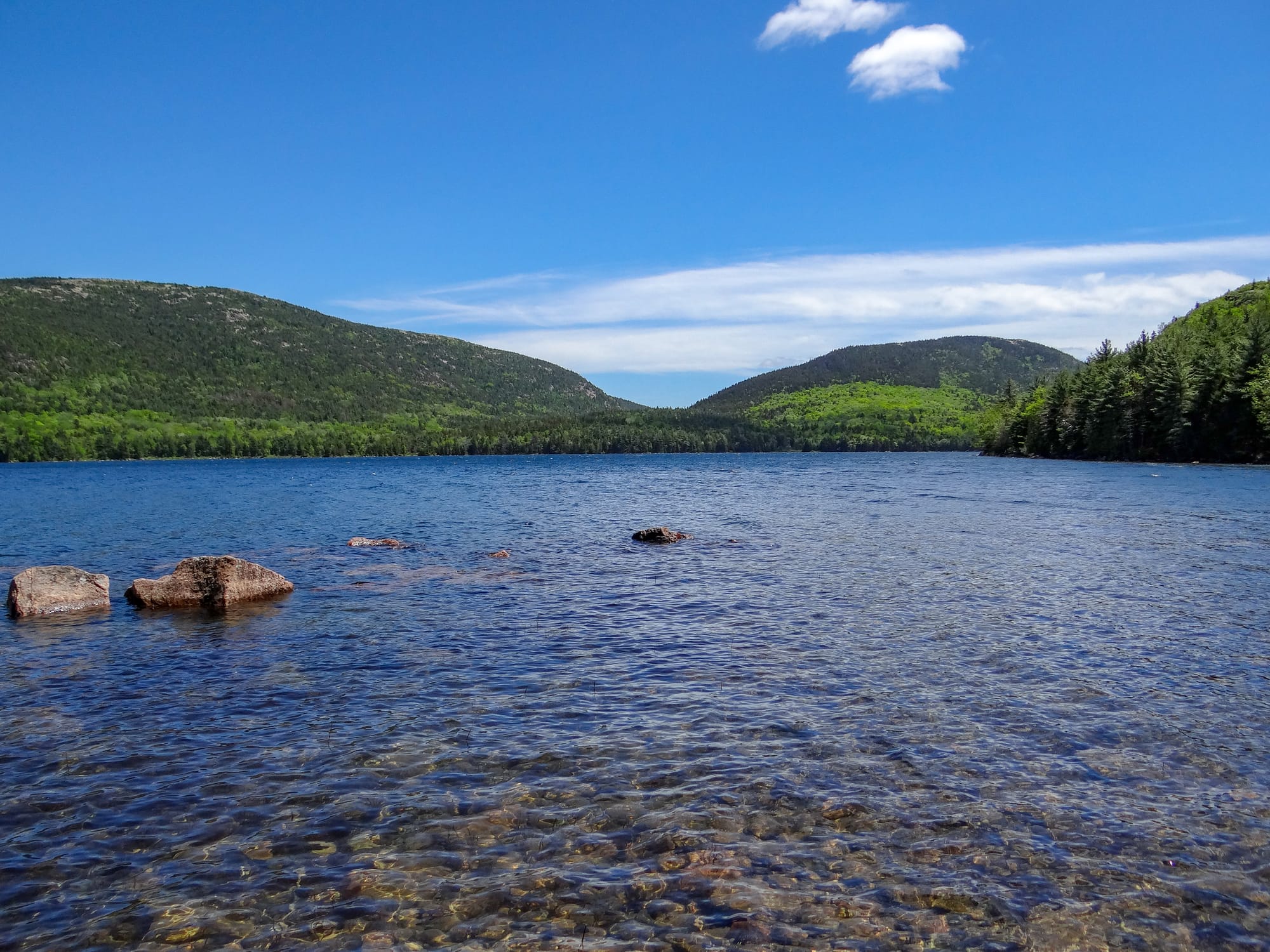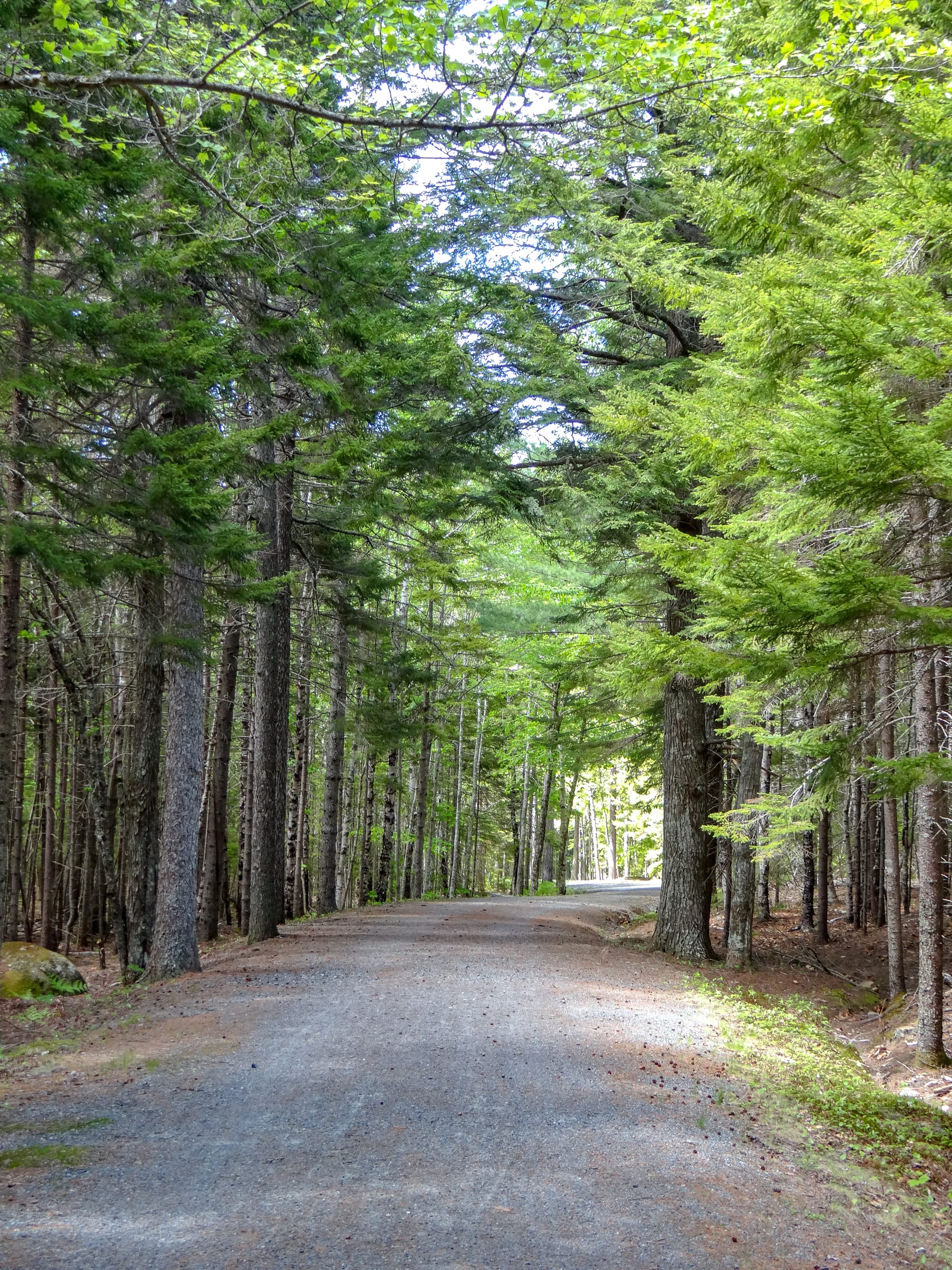 That night the sky was clear and beautiful; the stars were shining bright. While we were walking back to our hotel after eating dinner we discussed driving up into the park to see the sky without the cities light pollution. Unfortunately, we decided not to because we were too tired. I remember making some comment like "I hope we don't regret this" and let me tell you... I regret it! That was the only clear night we had. I have heard amazing things about visiting Acadia at night. The park is open 24 hours a day. Just google image search: Acadia at night. You'll see what I mean. Next time we visit we will make it a priority to go into the park at night.
The next day I still wanted to kayak. The ocean wasn't an option due to the swells so I wanted to Kayak on one of the ponds or lakes in the park. Keep in mind that all the lakes and ponds are water sources for the town so swimming is not allowed, but you can canoe or kayak. If you do not have a Level 4: Open Water Coastal Kayaking Certificate then there is only ONE place you can rent kayaks and it is National Park Canoe & Kayak Rentals. You will not be allowed to take the kayak on the ocean!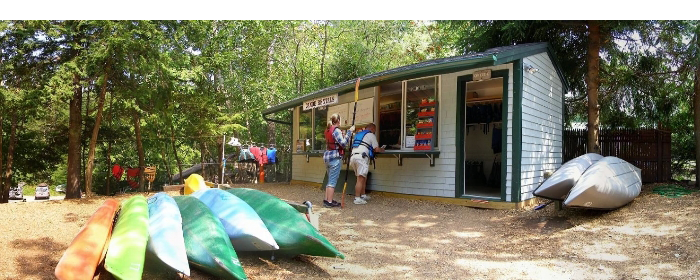 Click photo for more information!
We strapped our kayak down, with the help of one of the employee's, to our rental car and we headed to Jordan Pond. There is access off the pond that you can drive your car down to the edge to unload your kayak, you just can't park there. Parking is at the top of the hill, very very short walk down to the pond. We were the only ones out on the pond and it was incredible. The views were beautiful and it was so peaceful. Notice that we are wearing our jackets in the picture? It was just chilly enough that you wanted to wear long sleeves.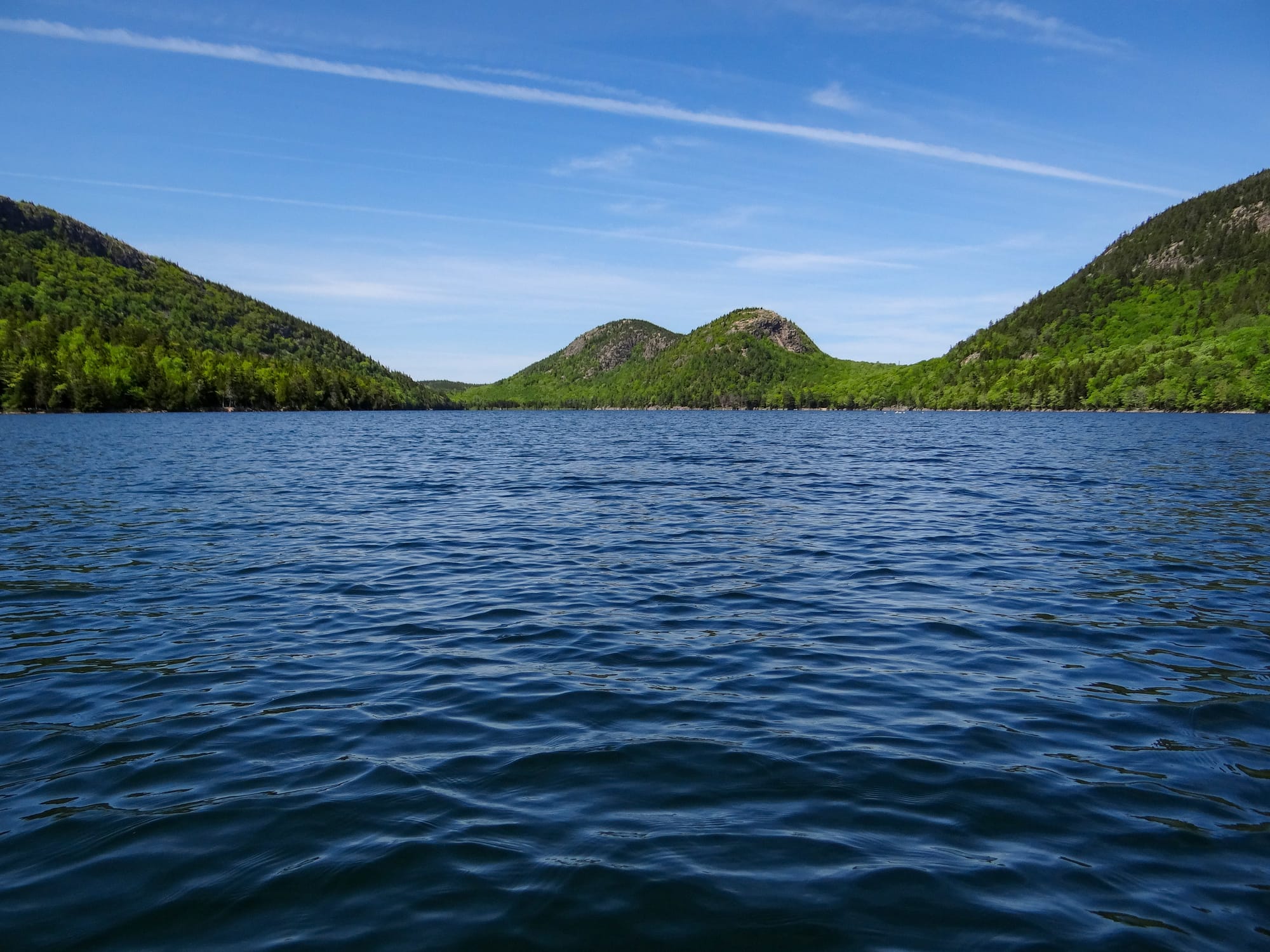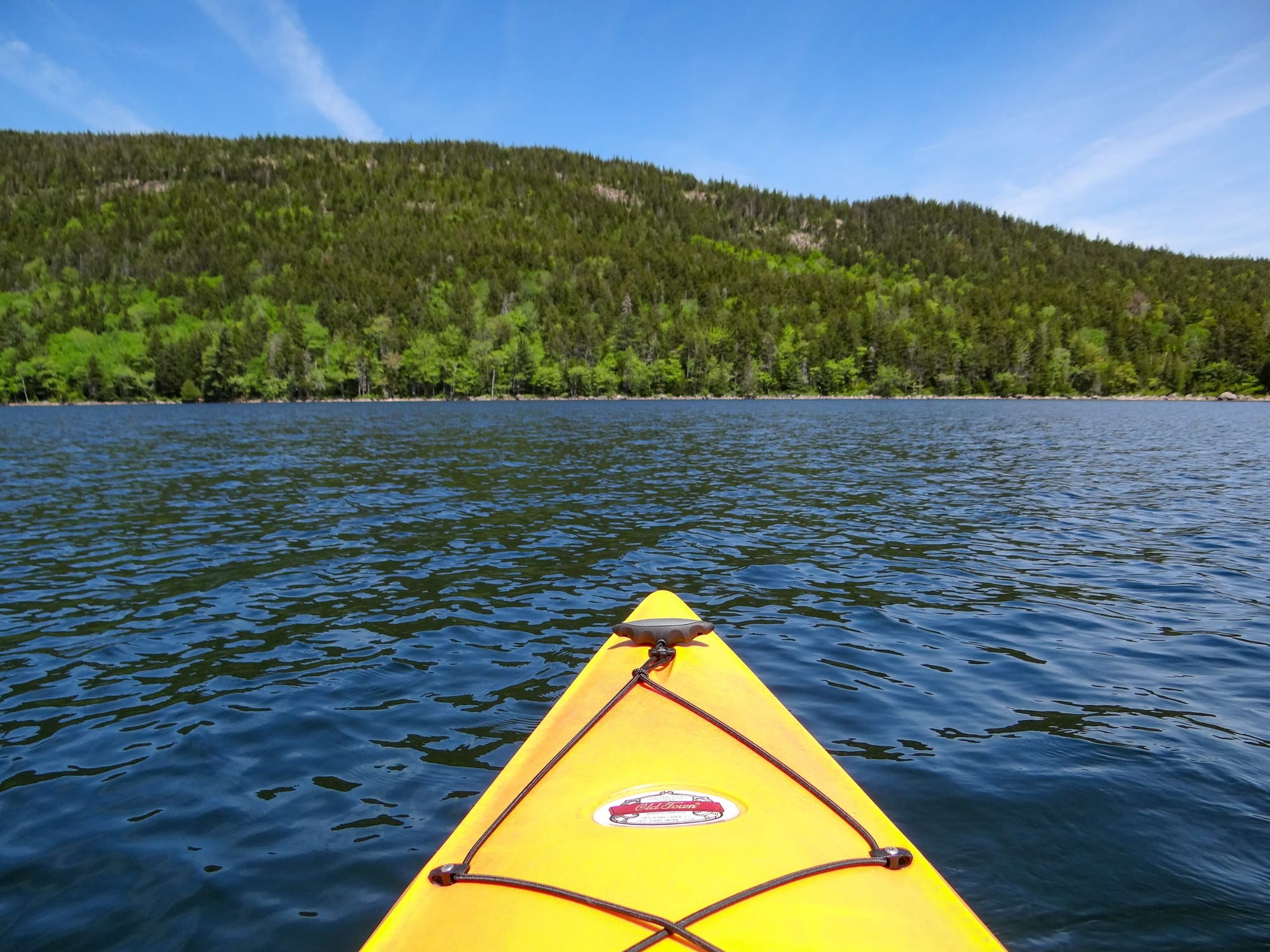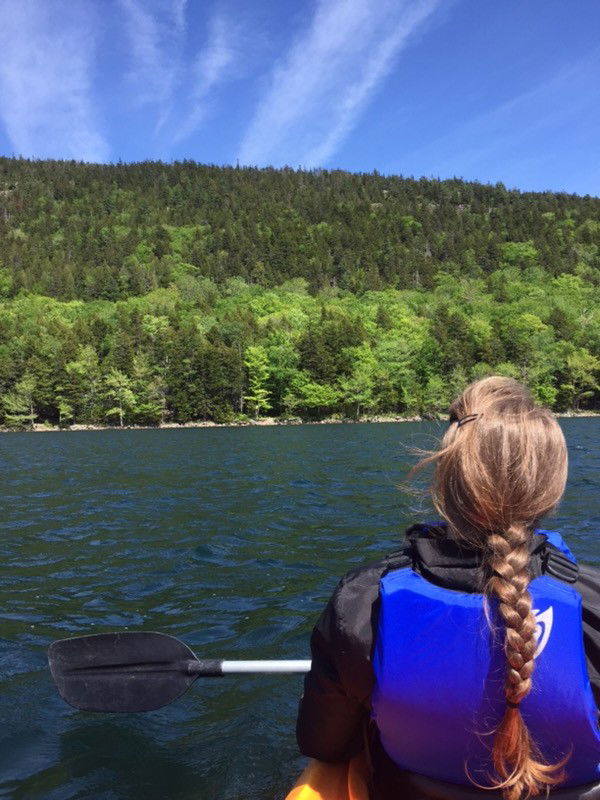 After returning our kayak we decided to hike along the carriage road to the waterfall bridge. See section 9 in your carriage road guide for directions. It was a beautiful hike. There wasn't much of a waterfall the day we were there, but if it has recently rained I hear the waterfall is beautiful!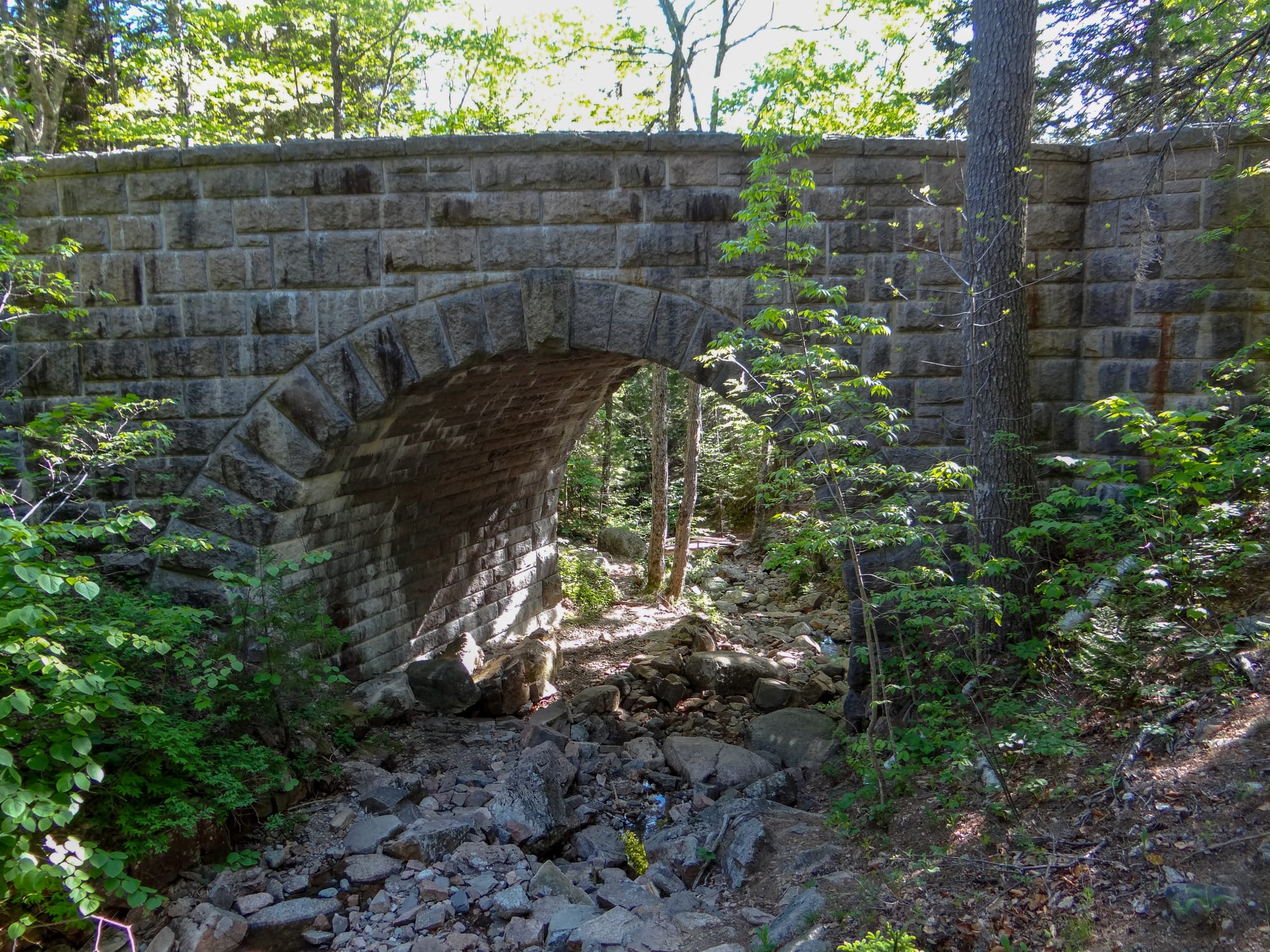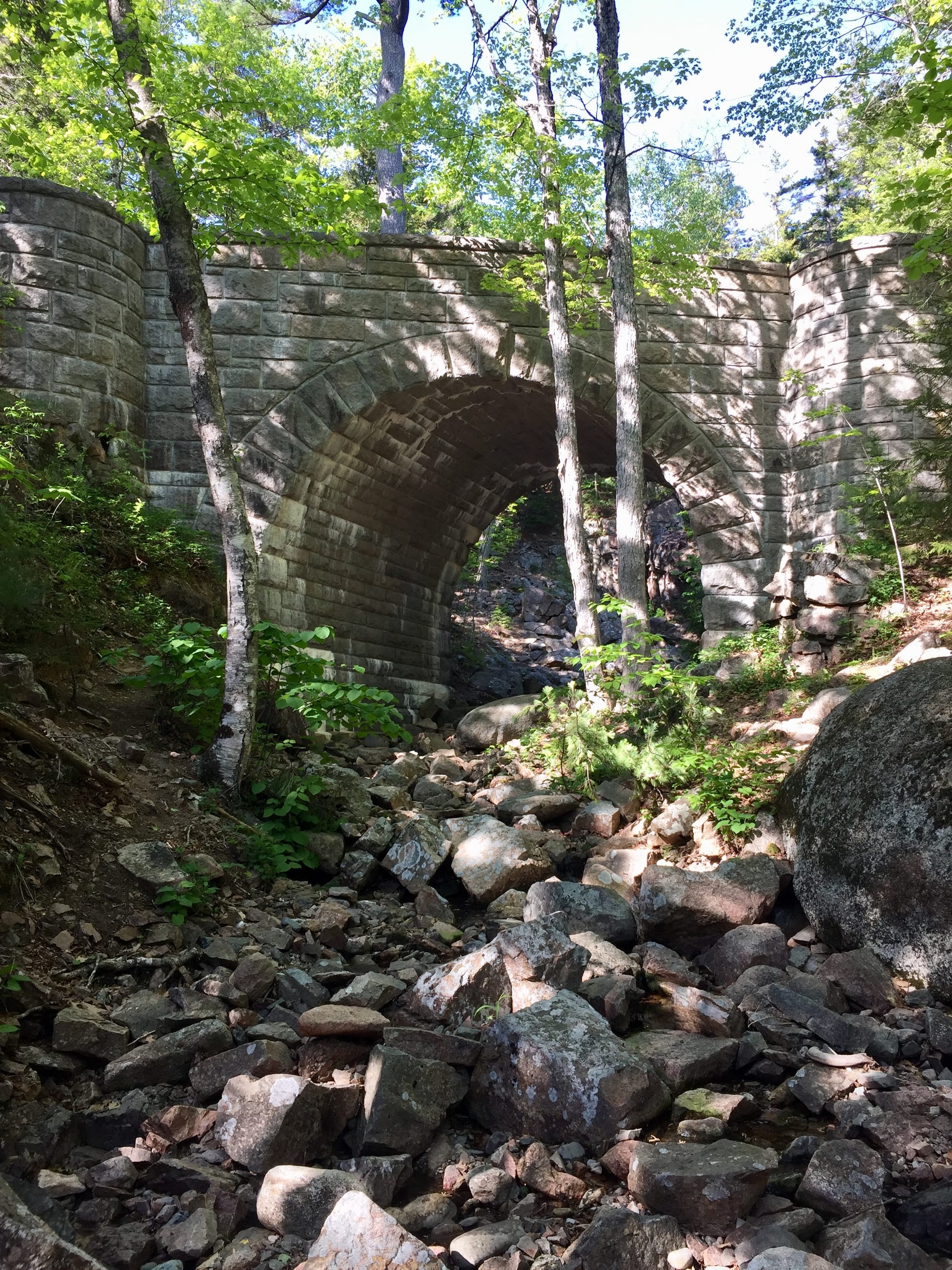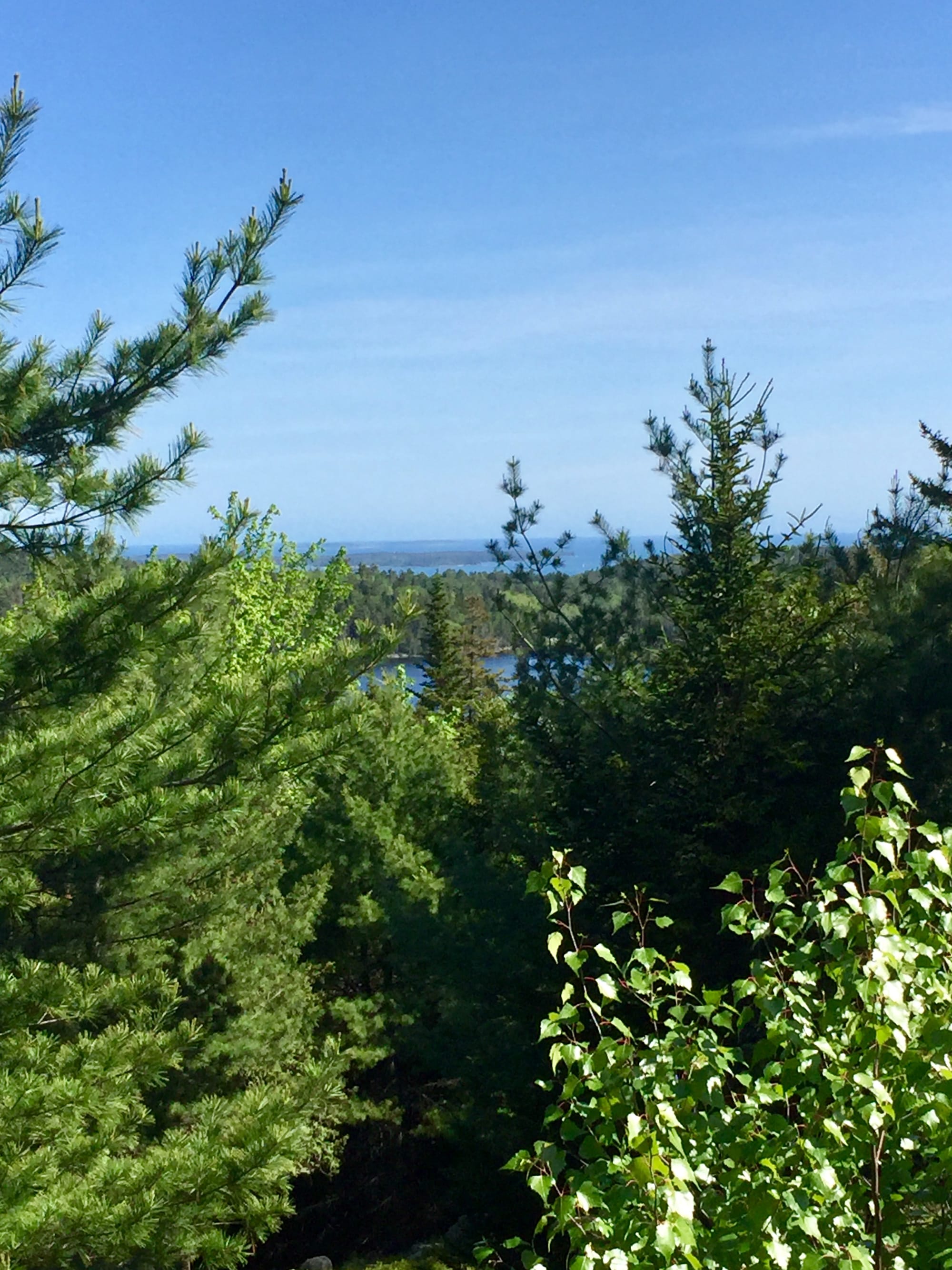 Here are some updated picture of Waterfall Bridge on a rainy day!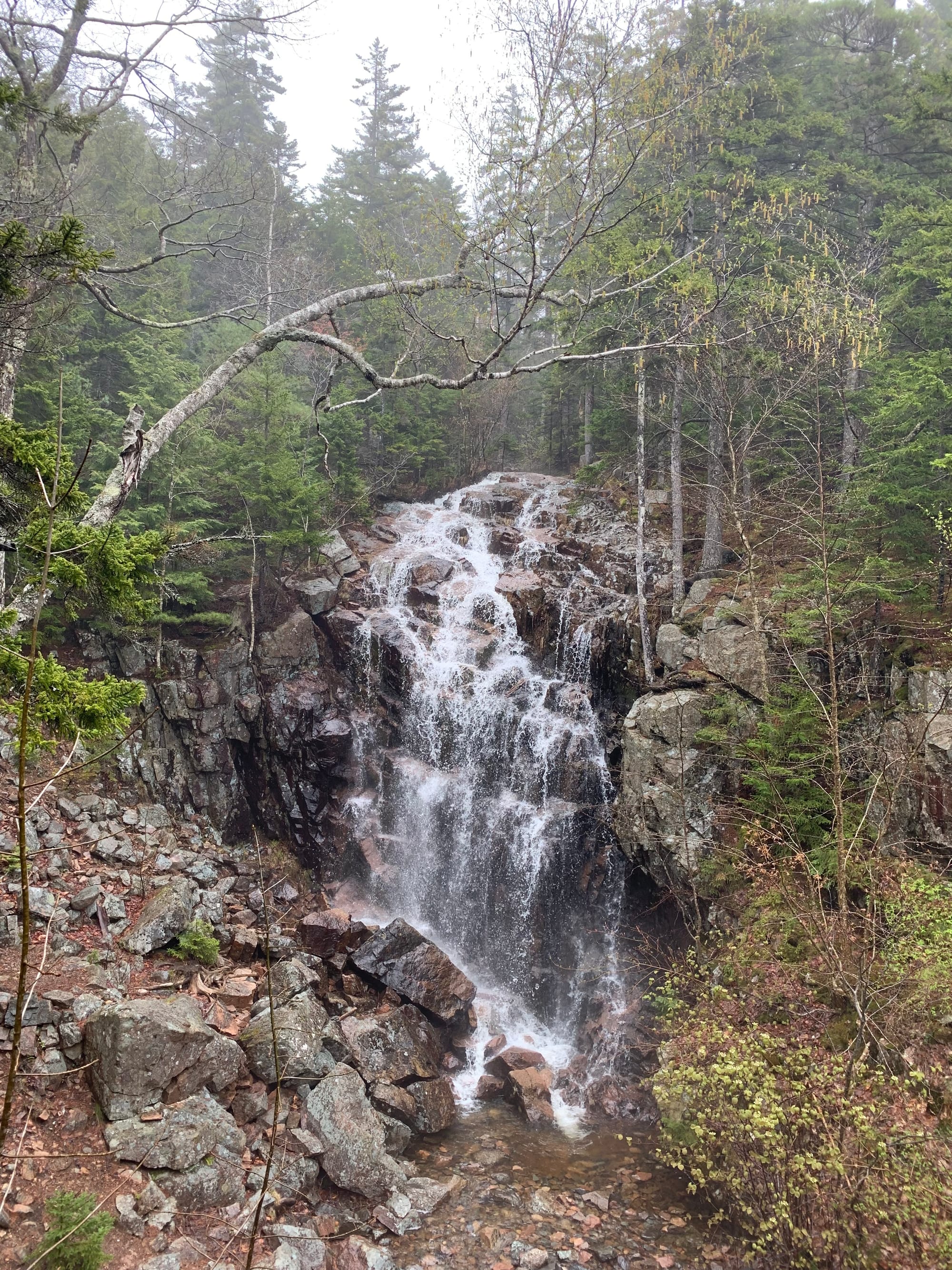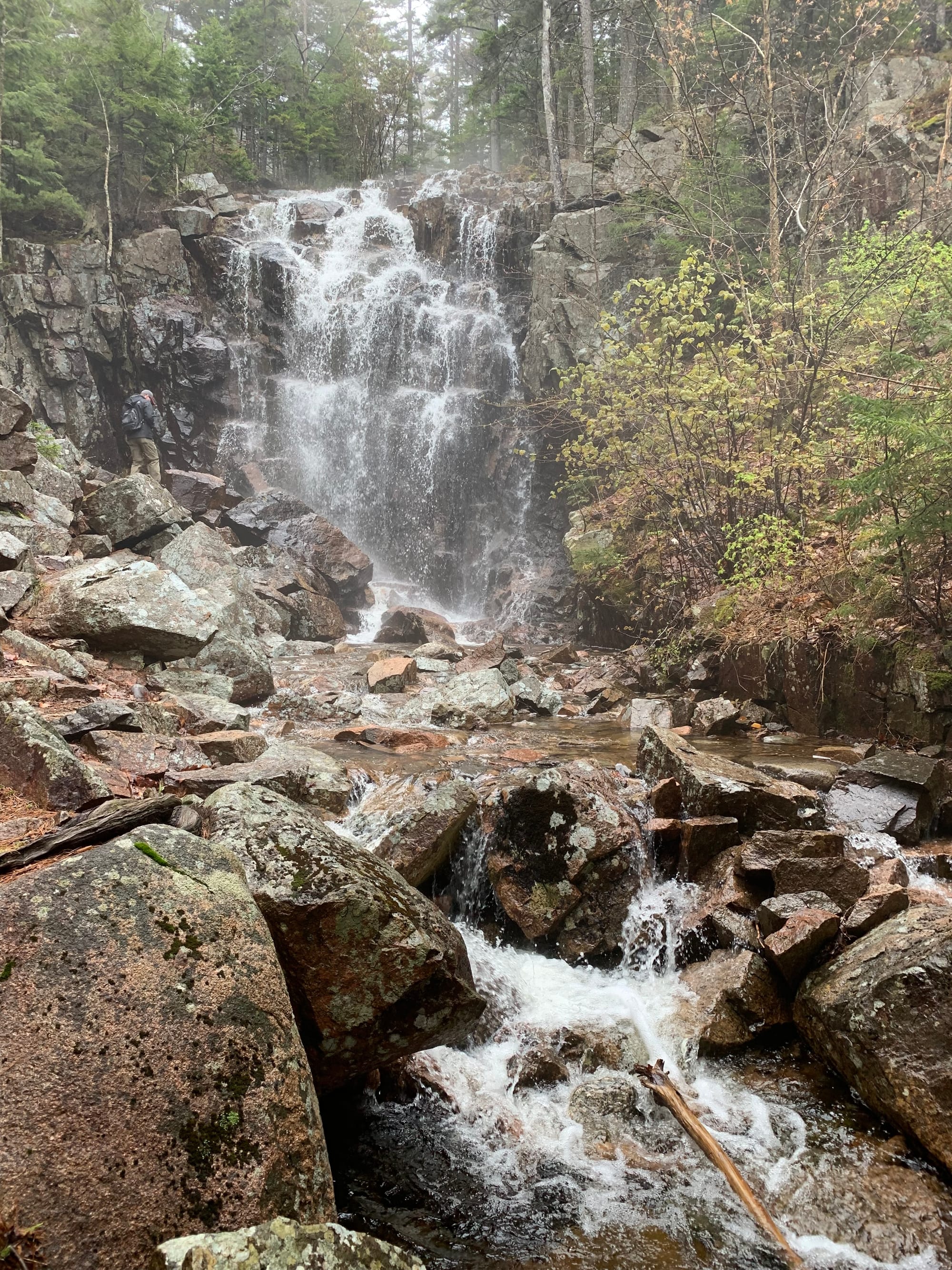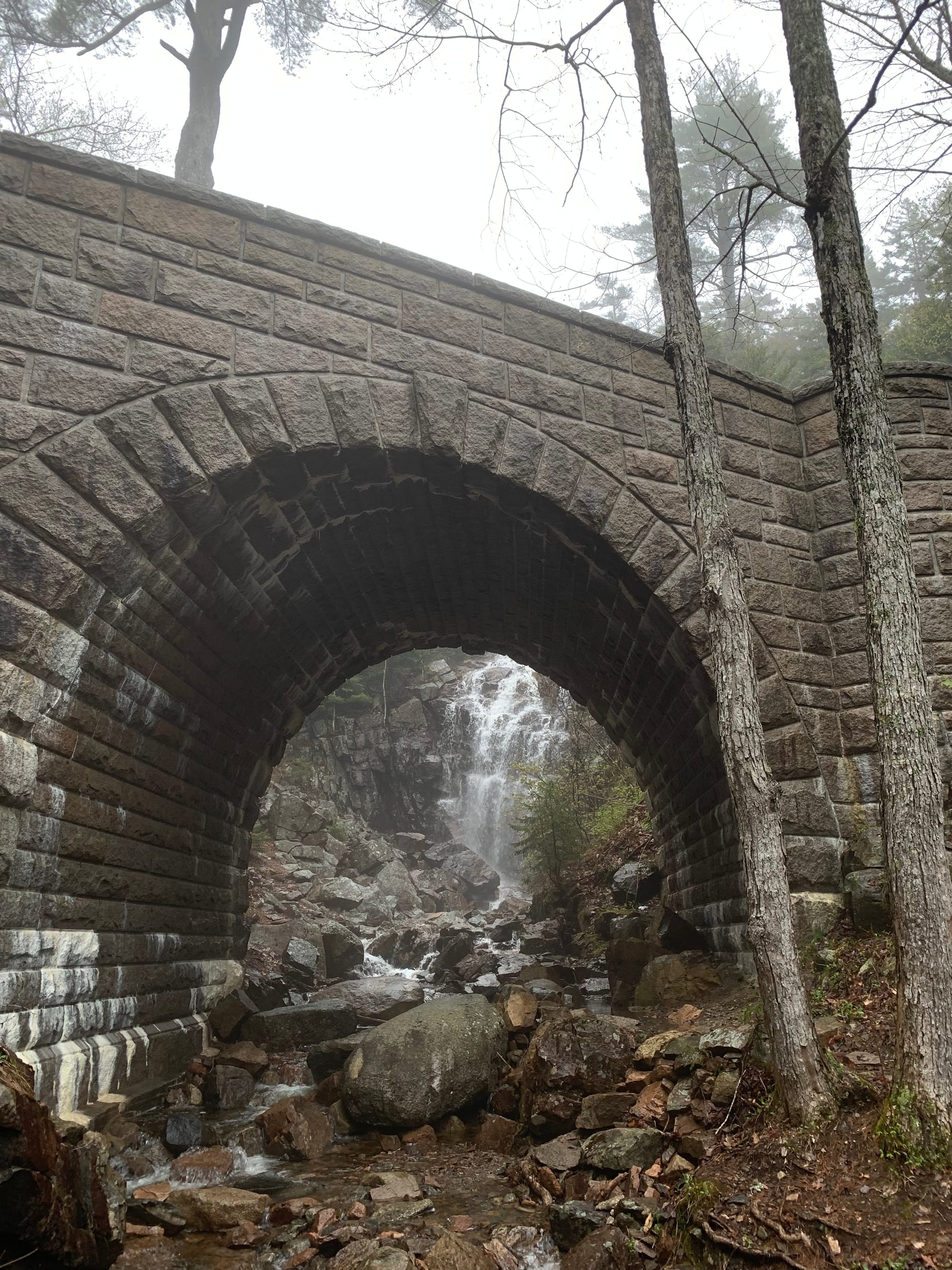 We decided before heading into town we would make a few other stops around the park. We went to the top of Cadillac Mountain. If you visit, my hope for you is that the weather will be clear so you can experience the beauty of the views all around you! There is a gift shop at the top and they sell a variety of items. We decided to buy some local Bar Harbor blueberry jam. It wasn't until our second trip to the grocery store in town that we realized you can buy that same jam but for cheaper in the grocery store. It made for some good souvenir gifts for family. There are some hiking trails around the peak of the mountain, but because we were running out of daylight we decided not to take advantage of the trails. If you are more interested in the hiking trails versus the gravel carriage trails take a look at the pocket guide: Hiking Mount Desert Island. (Which is the Island of Bar Harbor and Acadia Park). Here is an Amazon affiliate link for it:
Here are my photos from the top!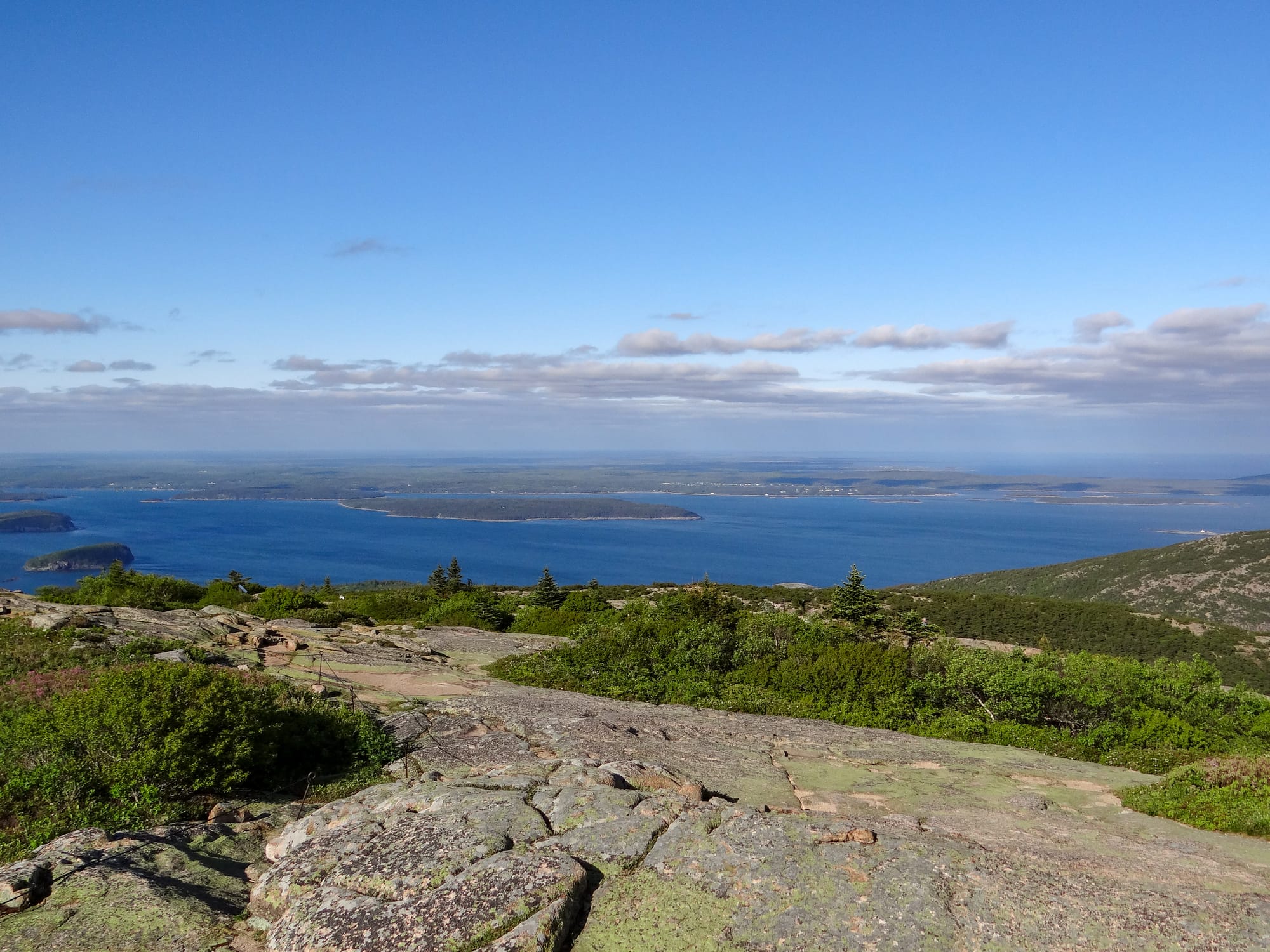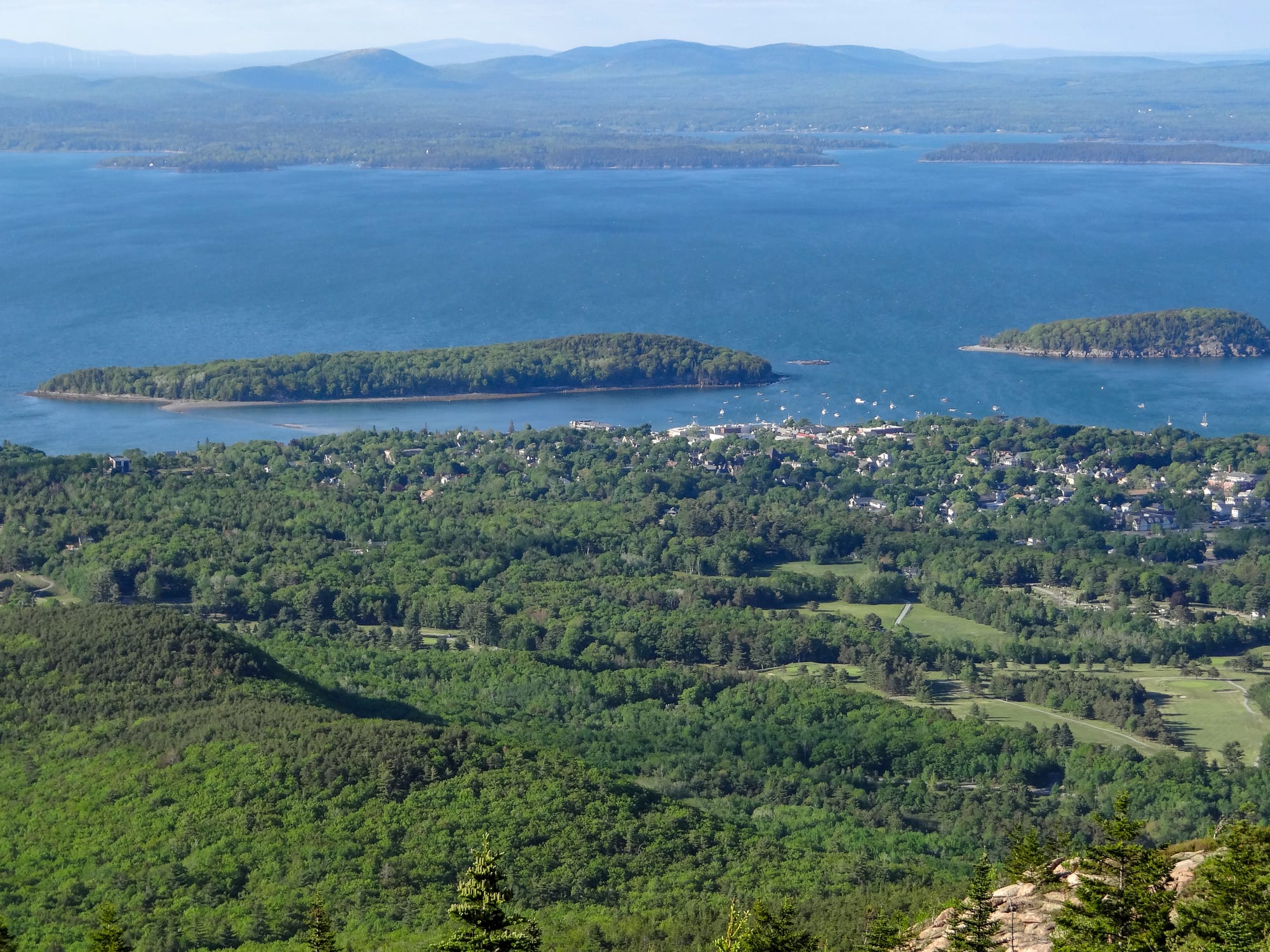 I used my camera zoom for the above photo. It is bar harbor and if you look close you can see the tide coming in over the "bar".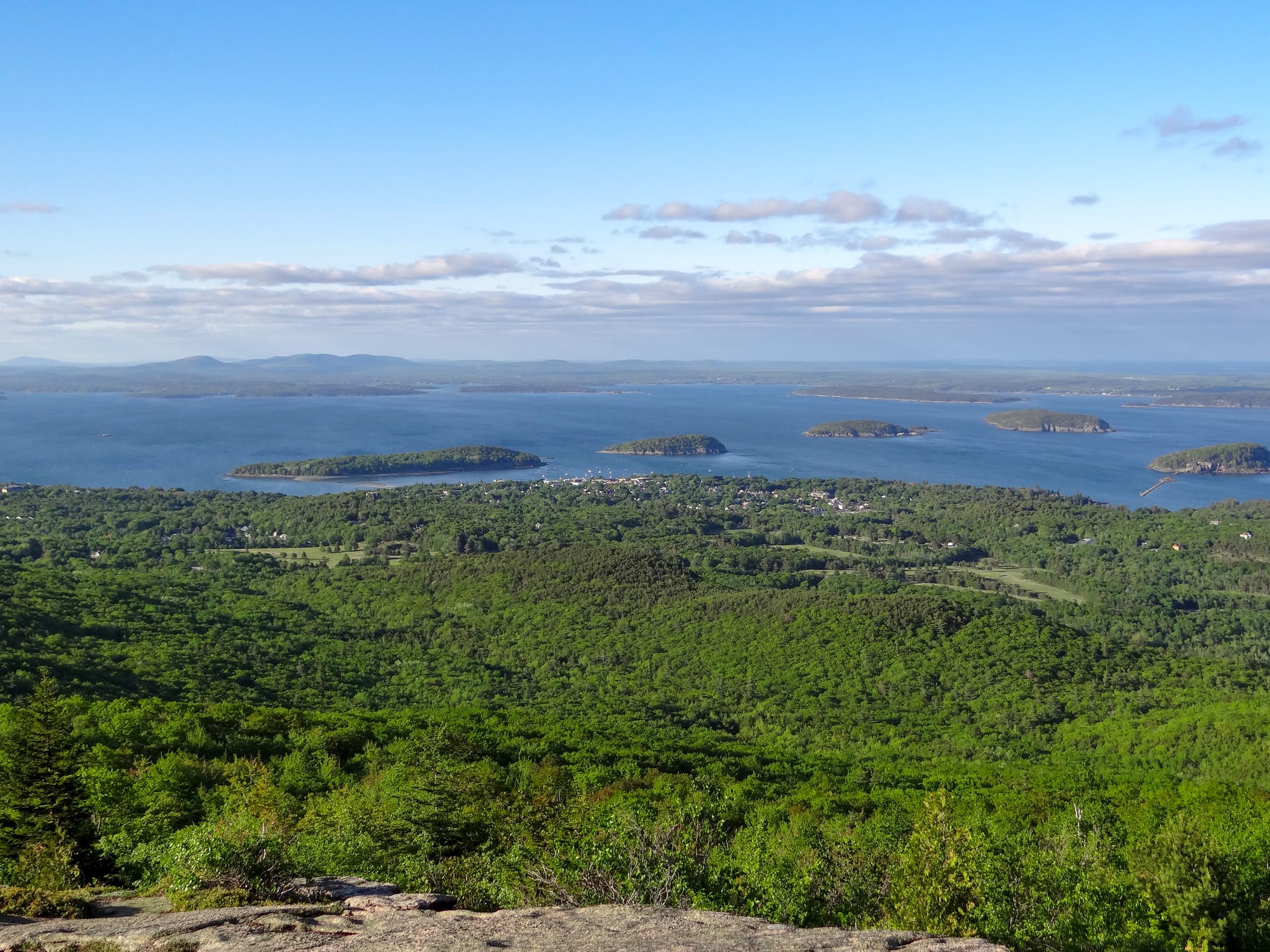 The photo below is actually from about halfway down from the top. It is Eagle Lake and I wanted a picture of it to better understand how much we biked the day before. We biked the Carriage trail that goes all the way around the lake.
Make sure you take time to stop and enjoy Sand Beach. It's a great place to spend some time and even picnic because there is a good size parking lot right off the beach making for easy access and, bonus, there are restroom facilities!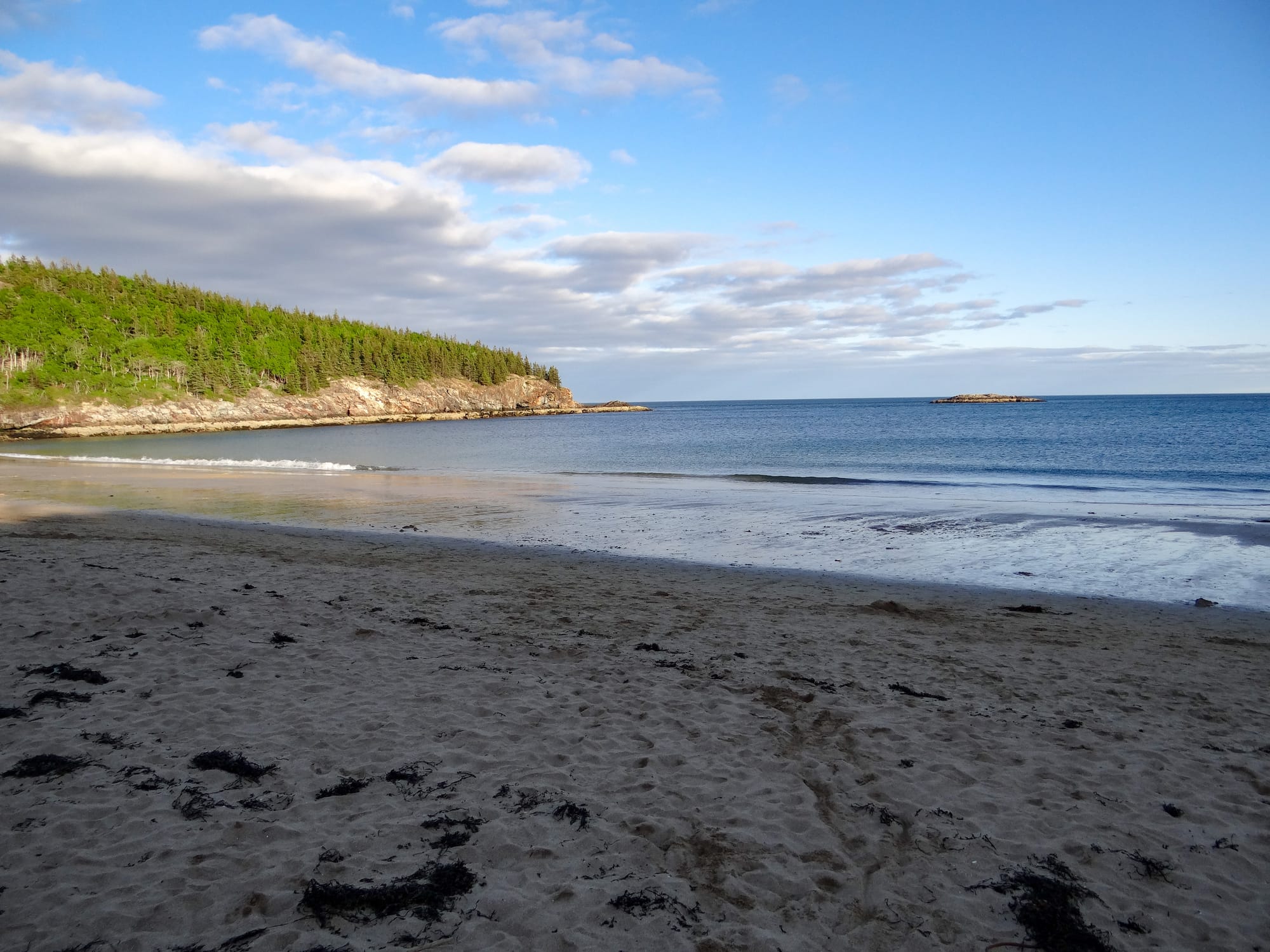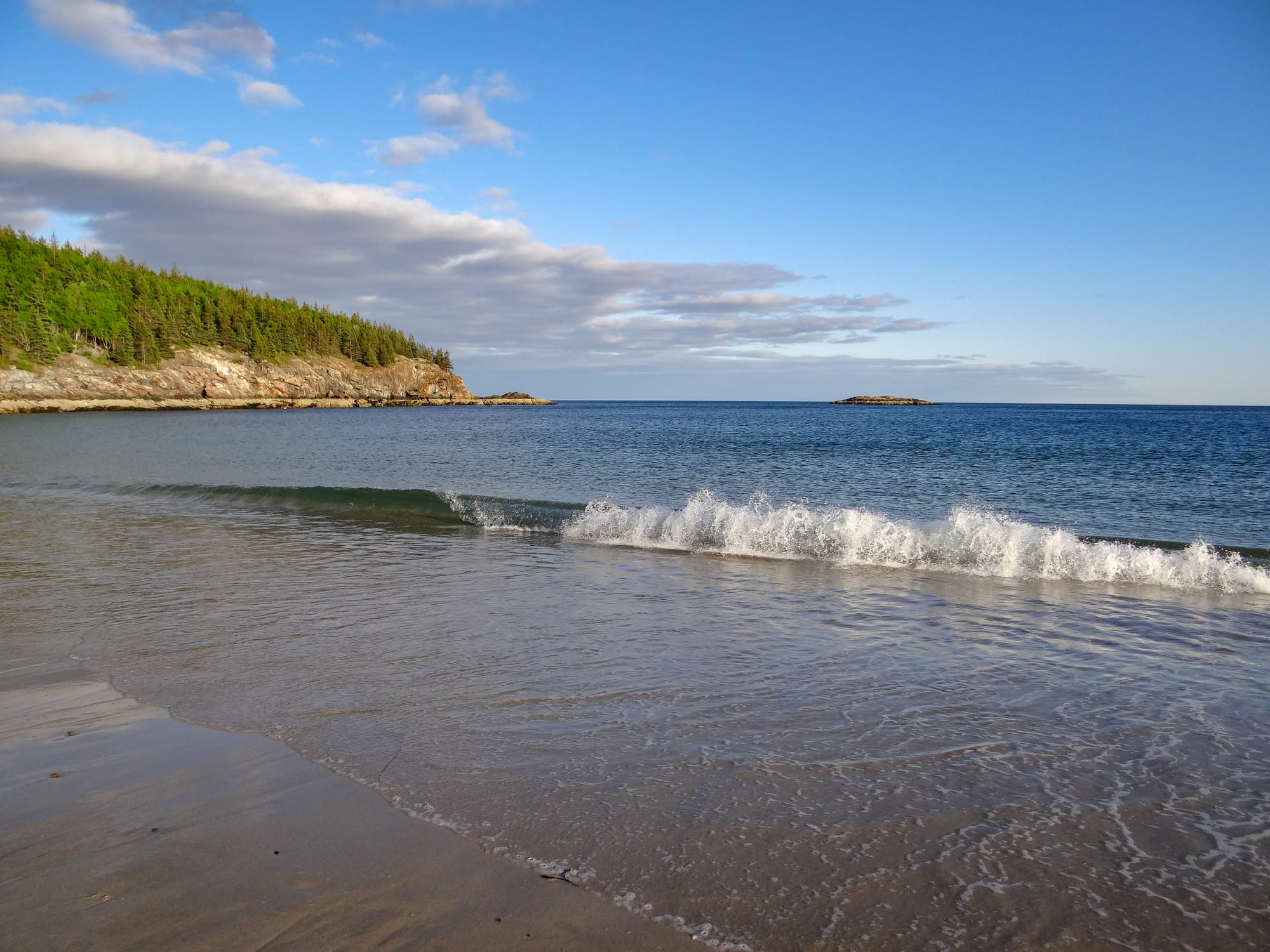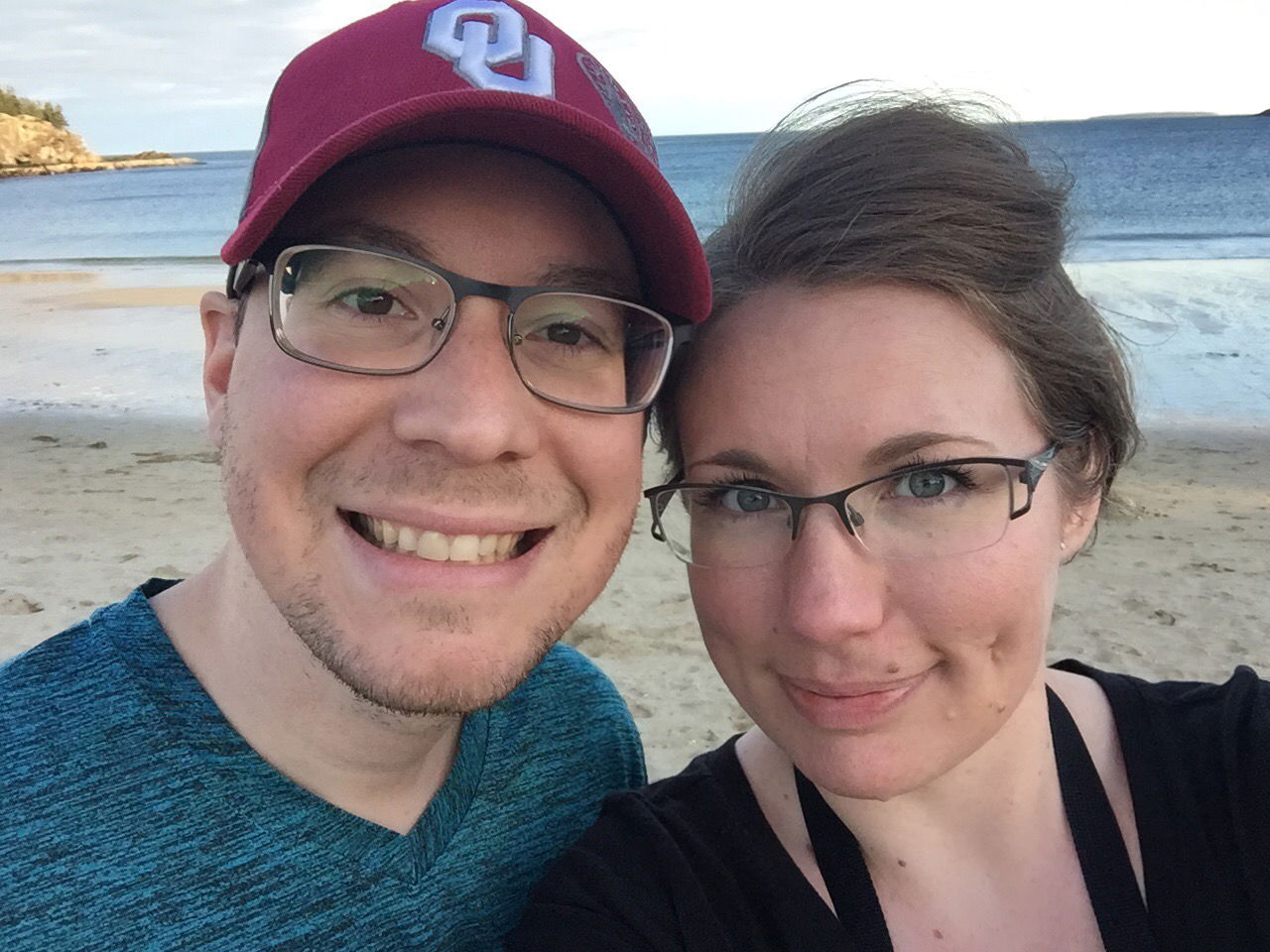 Selfie! The next couple days we experienced rain. If it rains while you are in Bar Harbor you can still make the most of your stay! The trails are beautiful in the rain. Thankfully we didn't experience downpours, because I'm sure that would be different. We hiked on the carriage trail off Jordan Pond. See section 5 in your Carriage Road pocket guide. I wanted to see the Cobblestone Bridge that's pictured on the front of the pocket guide. It was worth the walk. It is a very easy walk to the bridge. We didn't eat at the Jordan Pond House because we felt it was too touristy. But I mention it because it's a great option to do lunch there and then take the trail to see the bridge!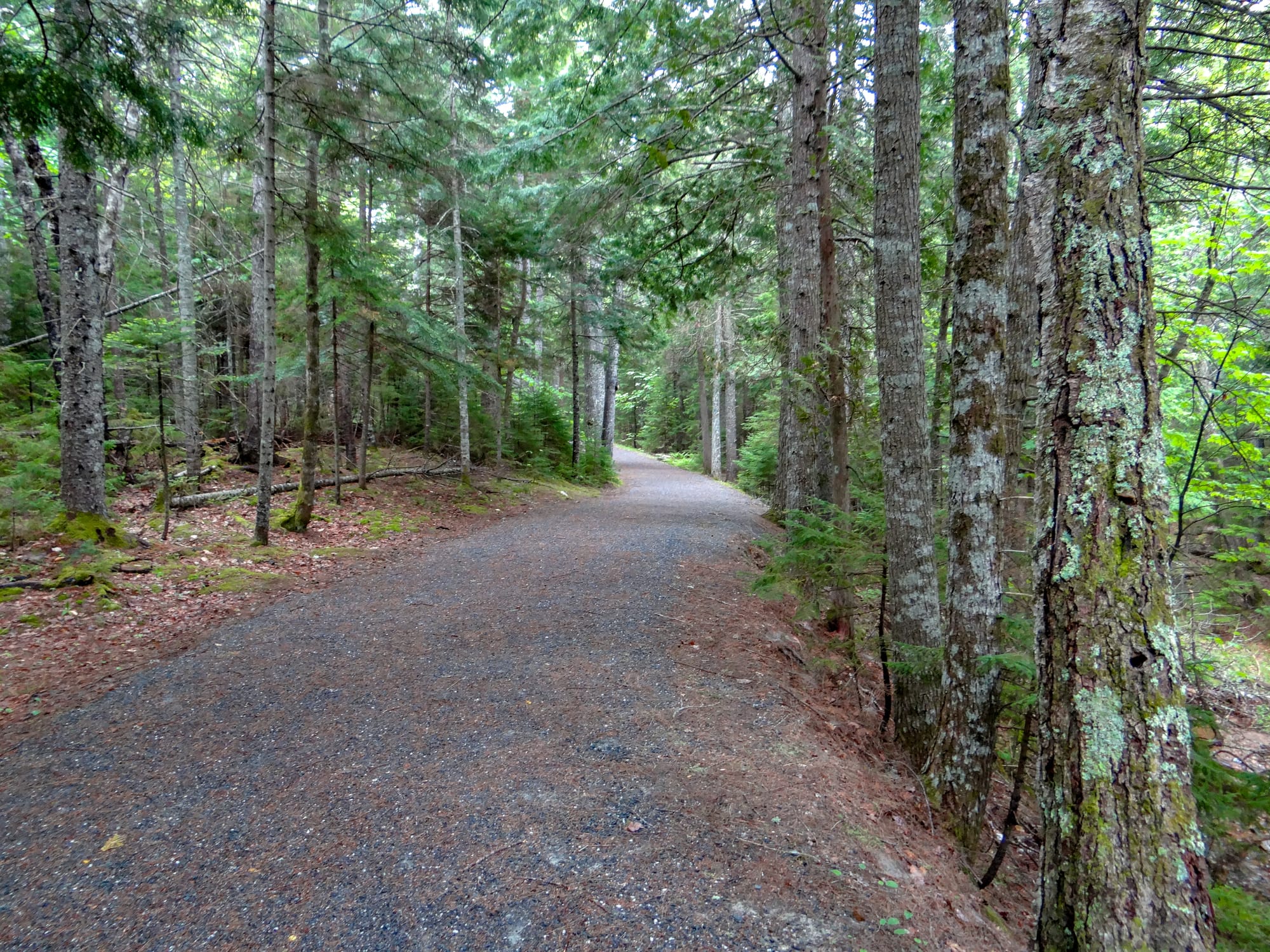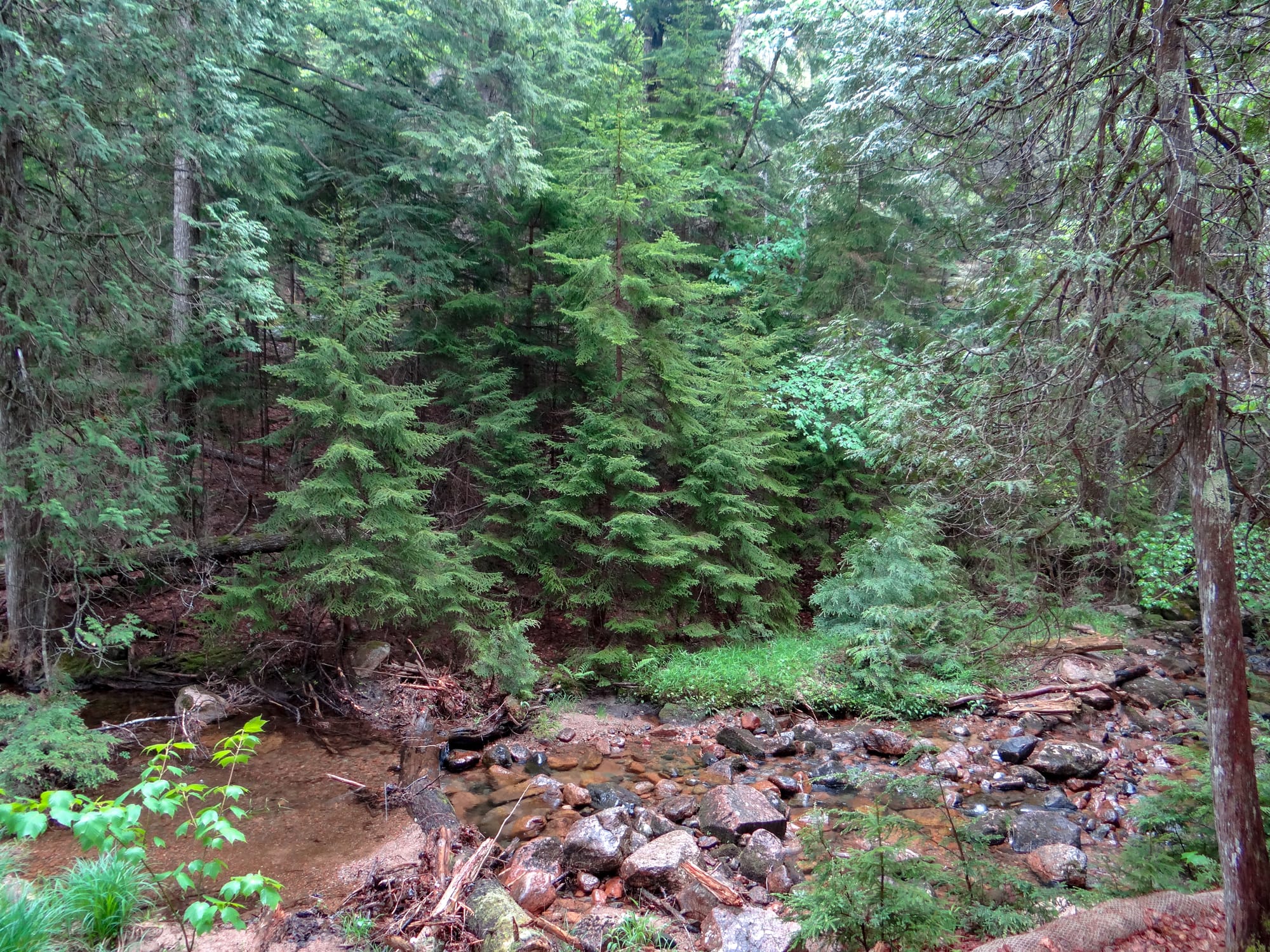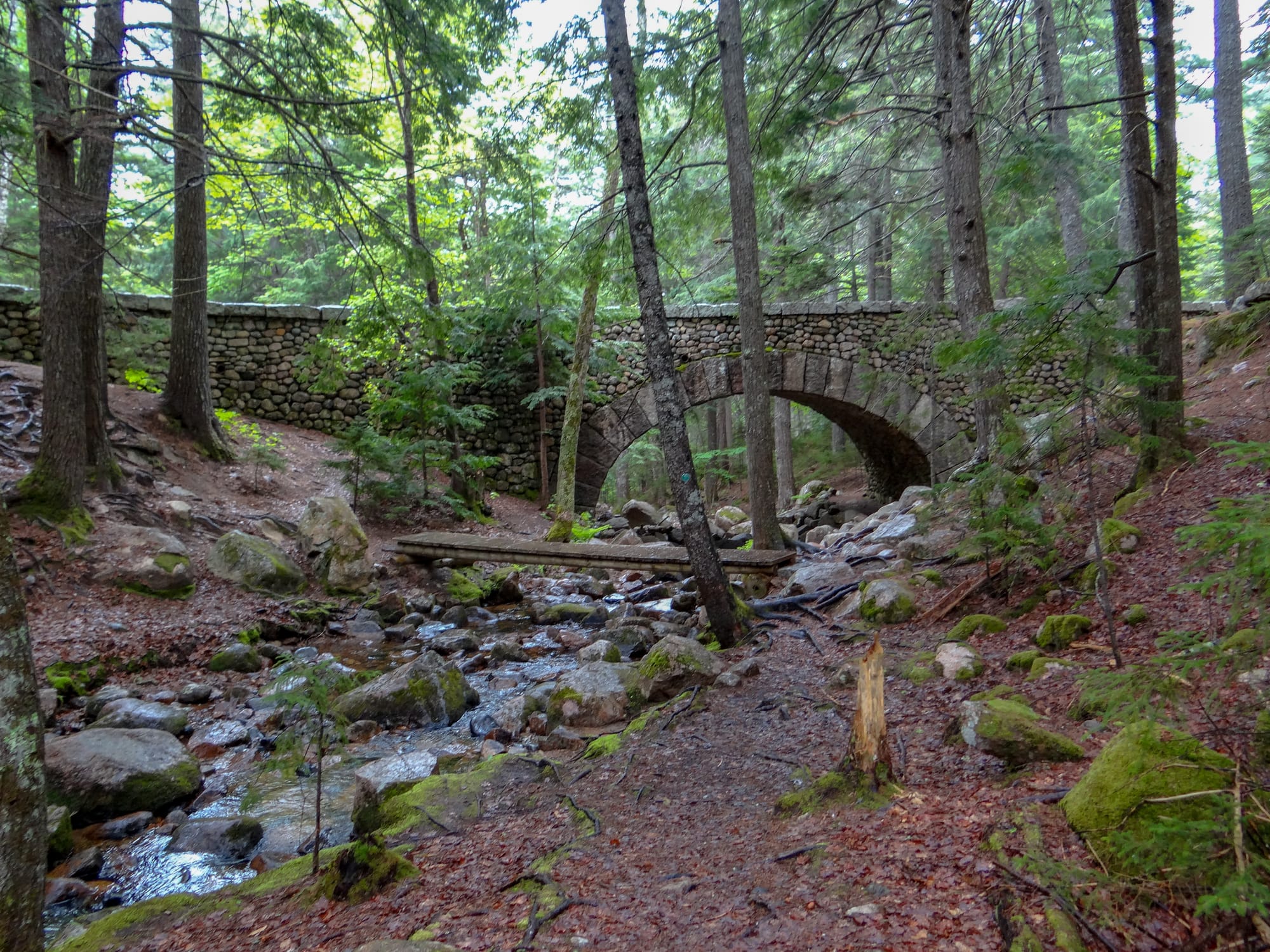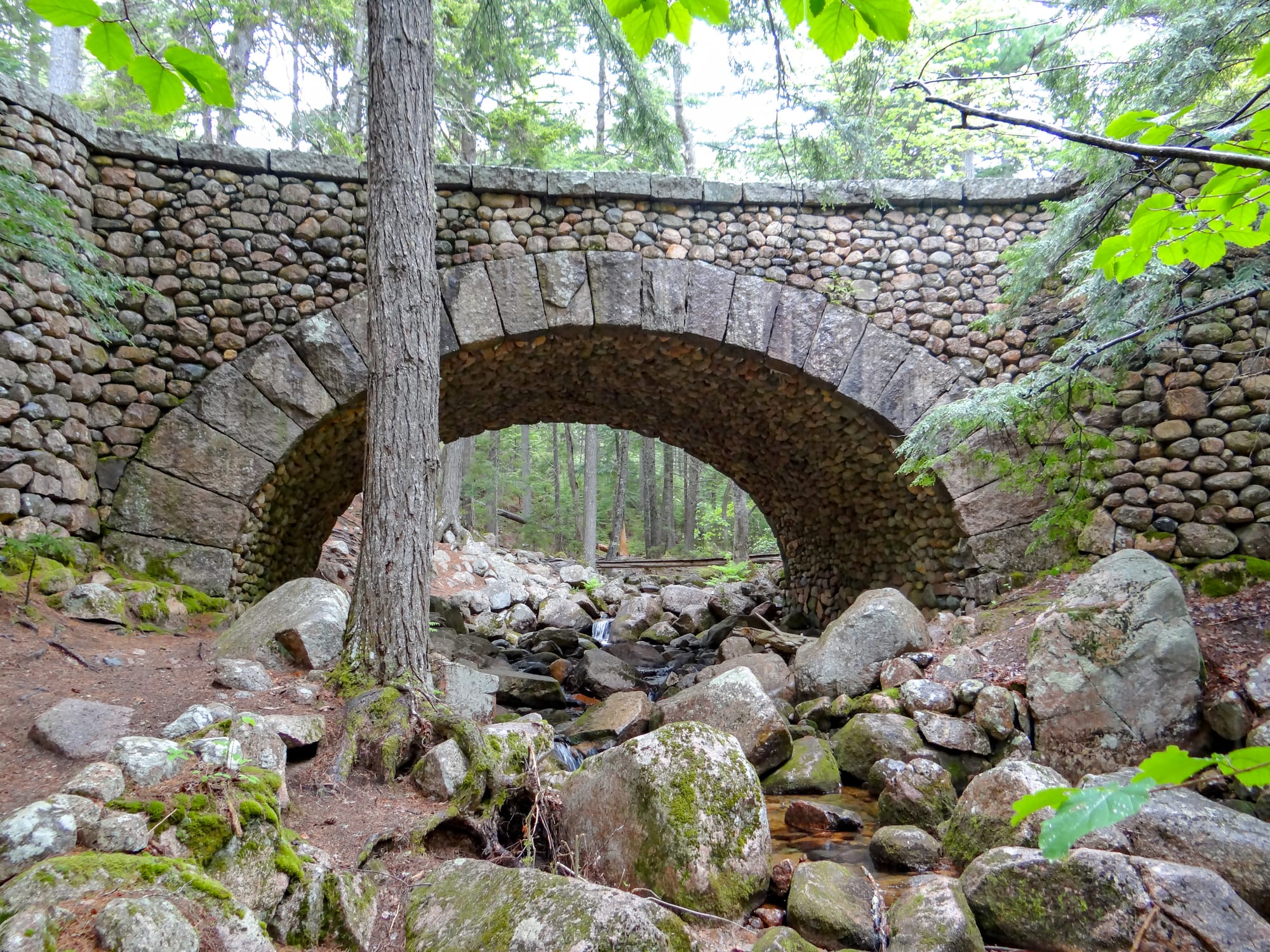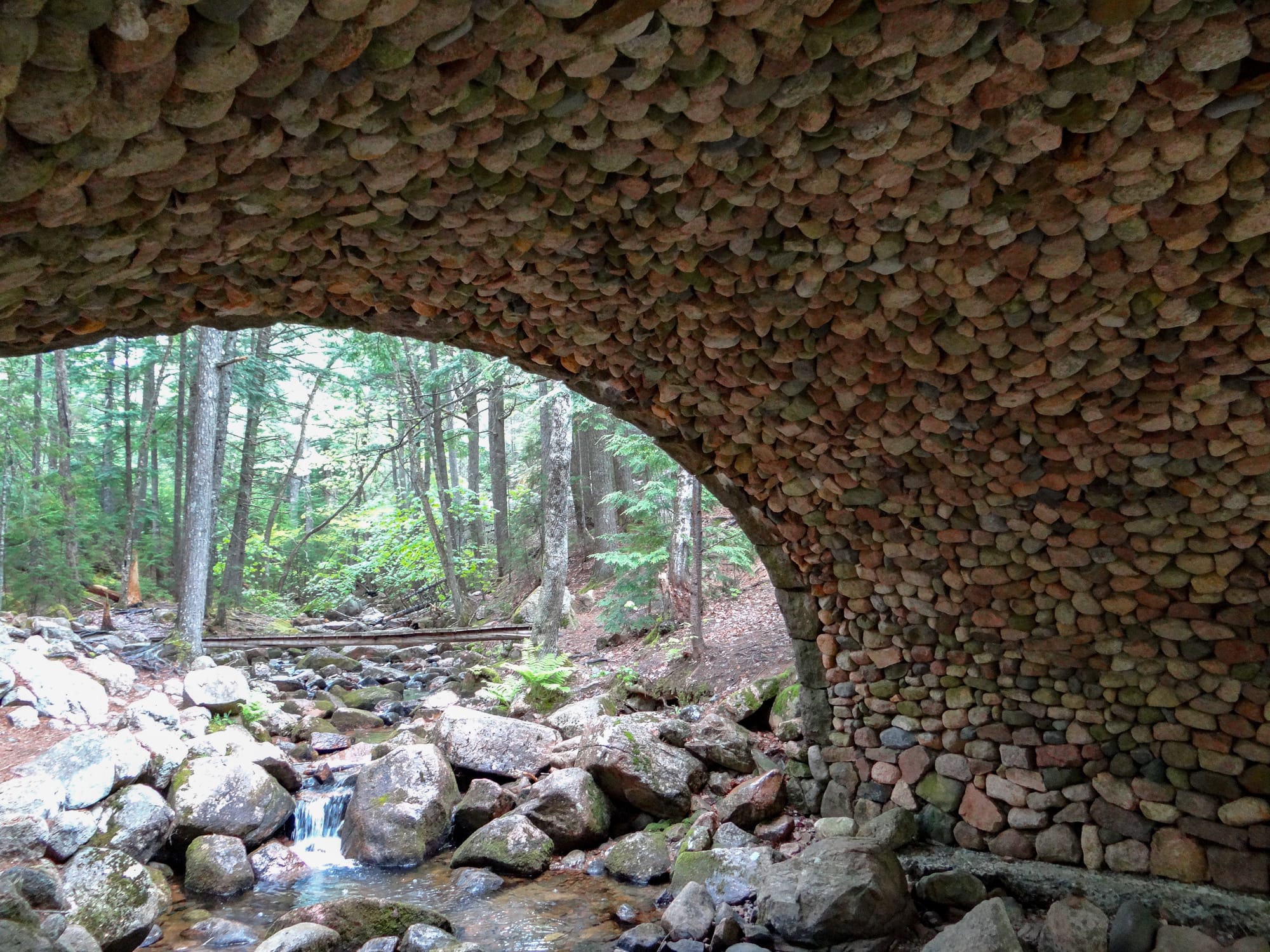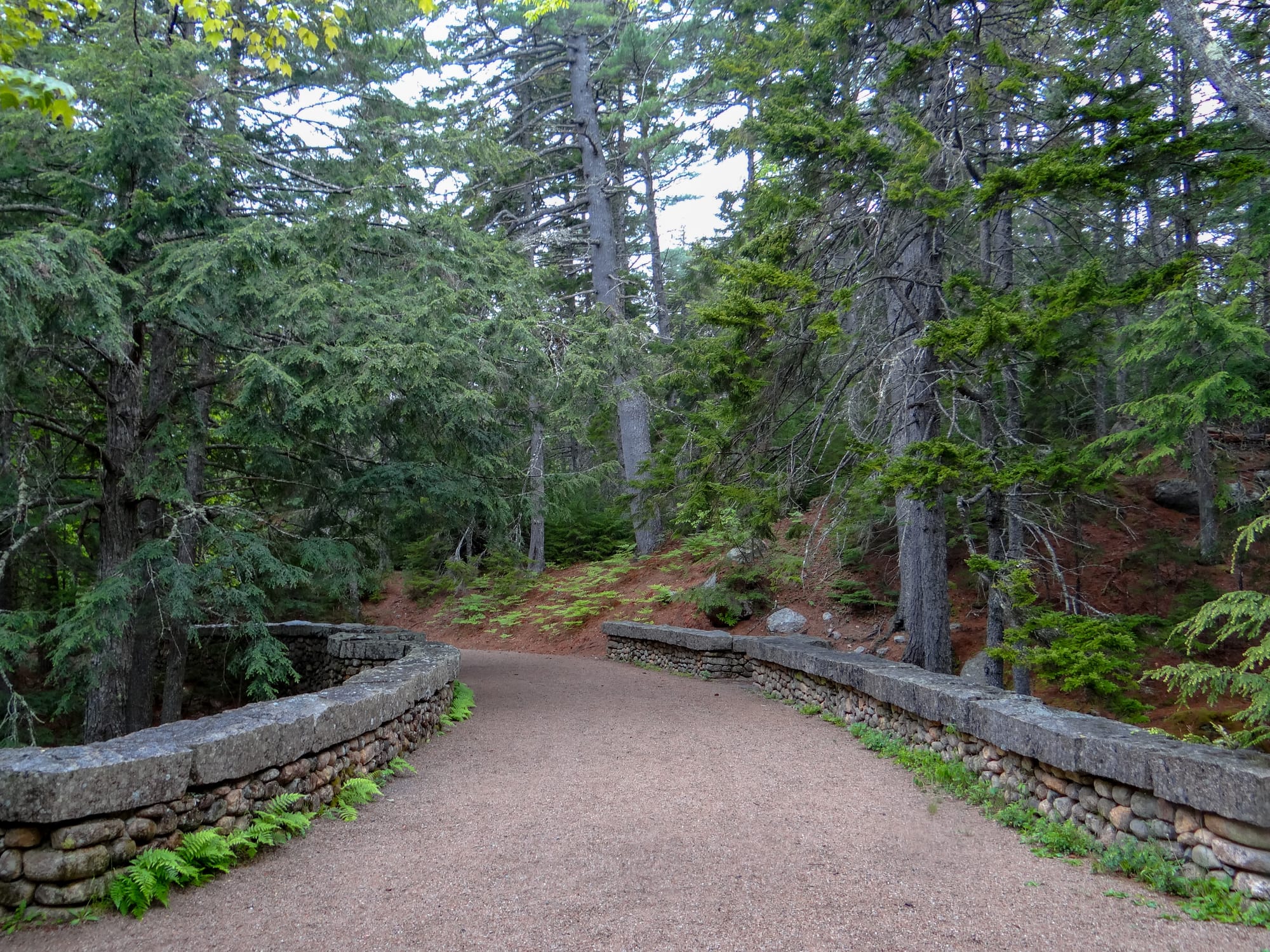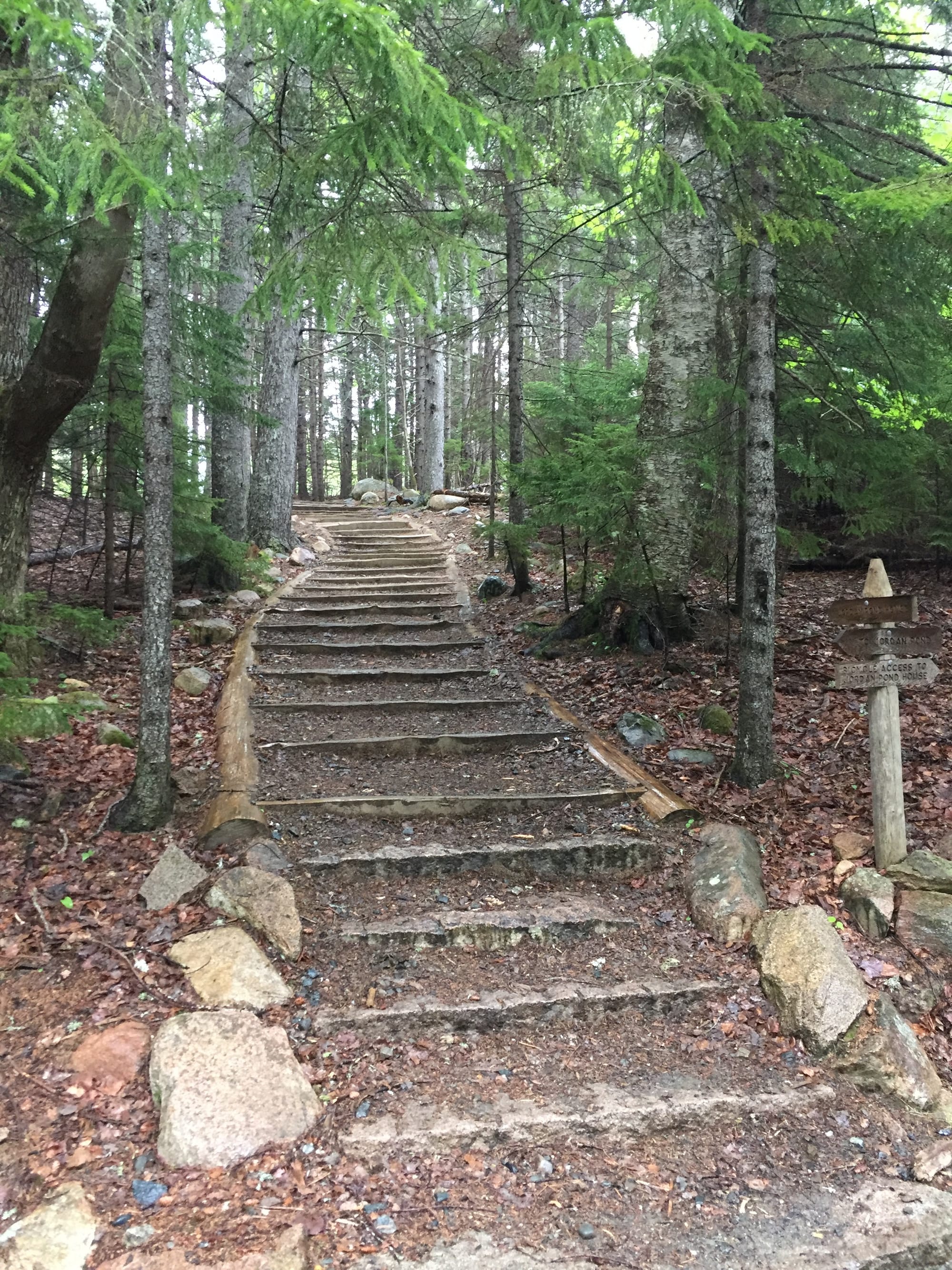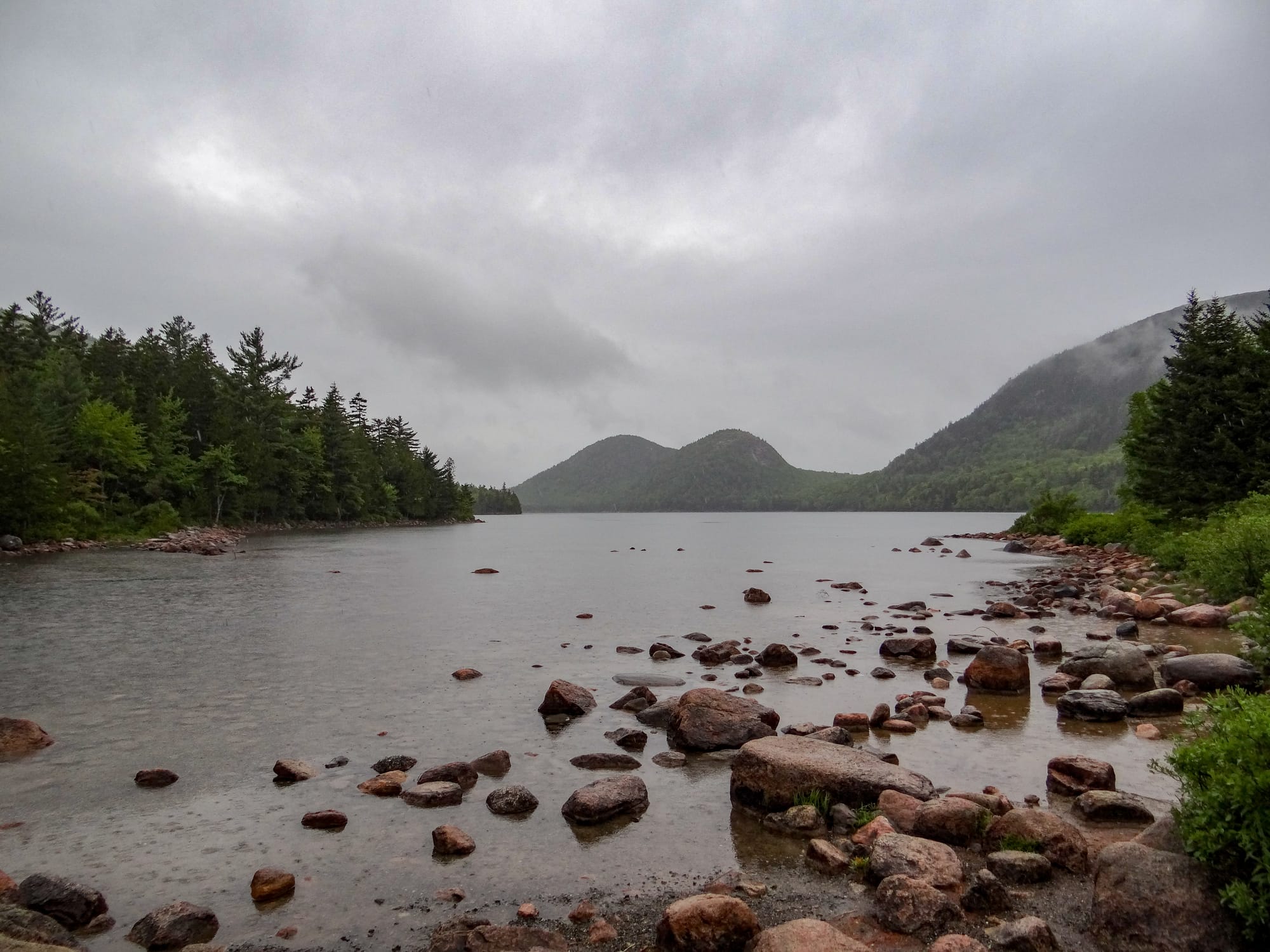 One day we decided to explore the southwest side of the island because I wanted to see the Bass Harbor Head Lighthouse. Even though it was a rainy day there were a lot of other tourists. I can't imagine how busy it would be during the peak season. The lighthouse is on a cliff and the only way to see it is to climb out on some rocks. I made my husband go out to take the pictures because my legs had been in a lot of pain from all the biking and hiking so I didn't trust my strength to keep from falling into the ocean haha!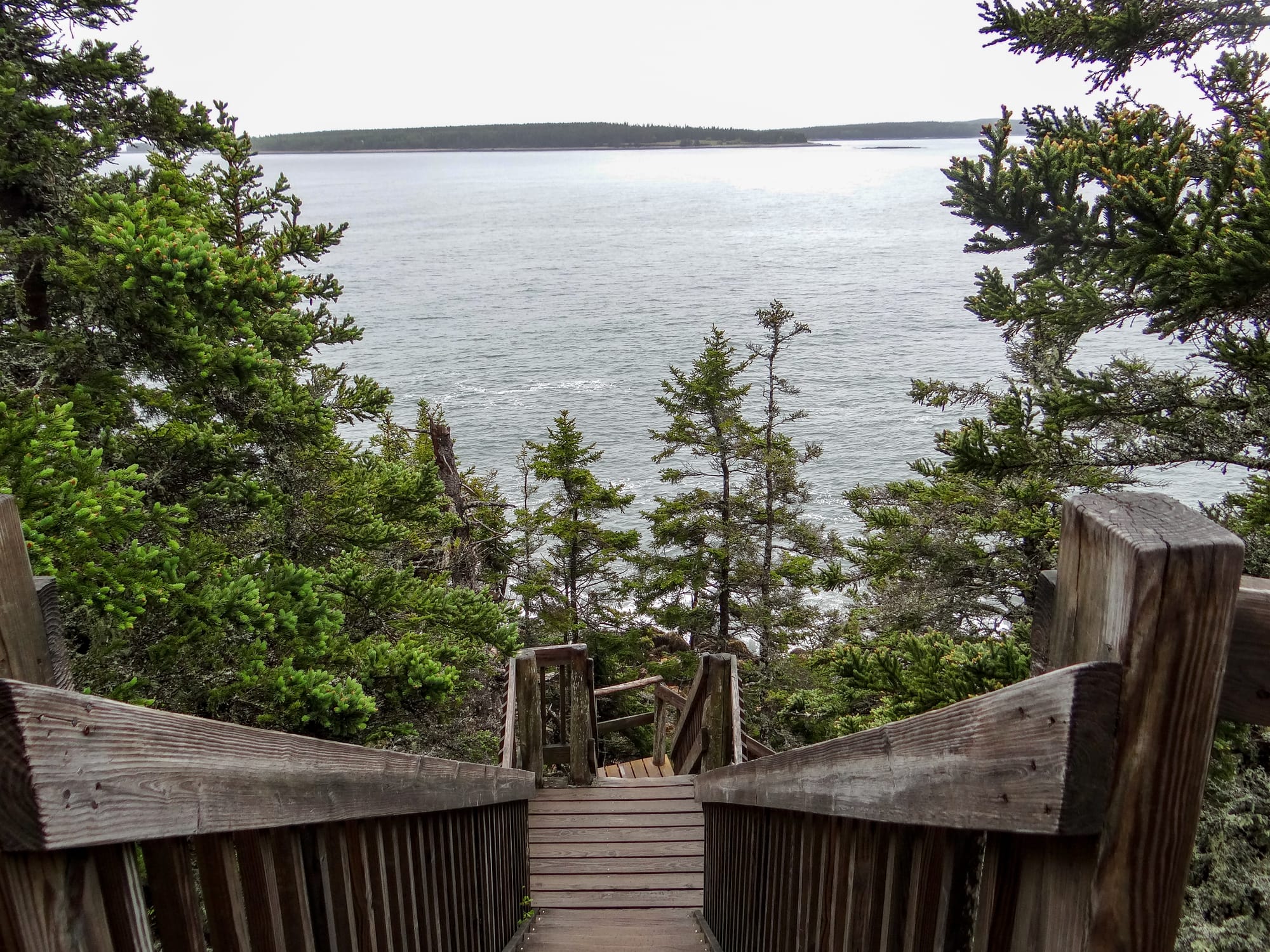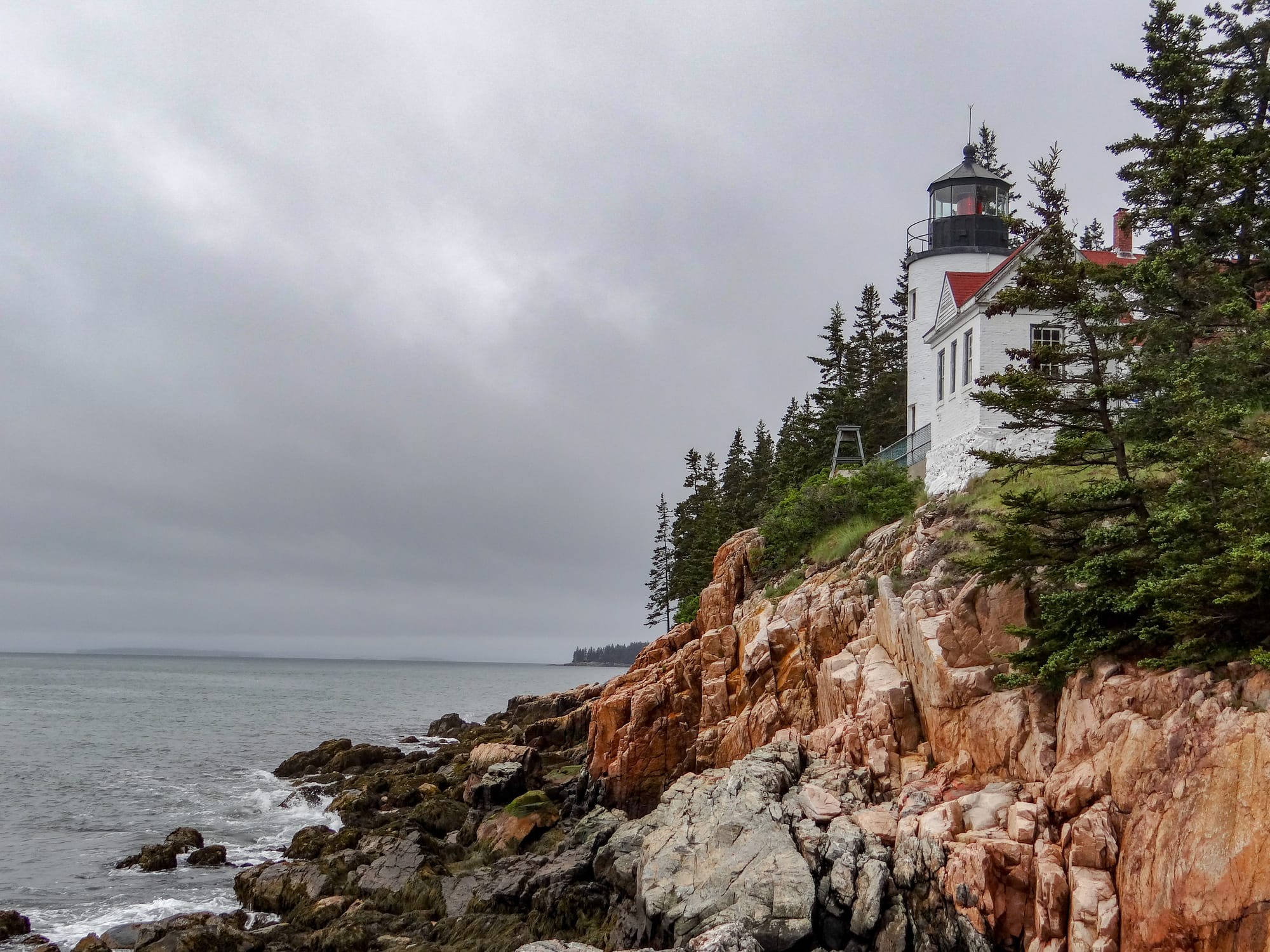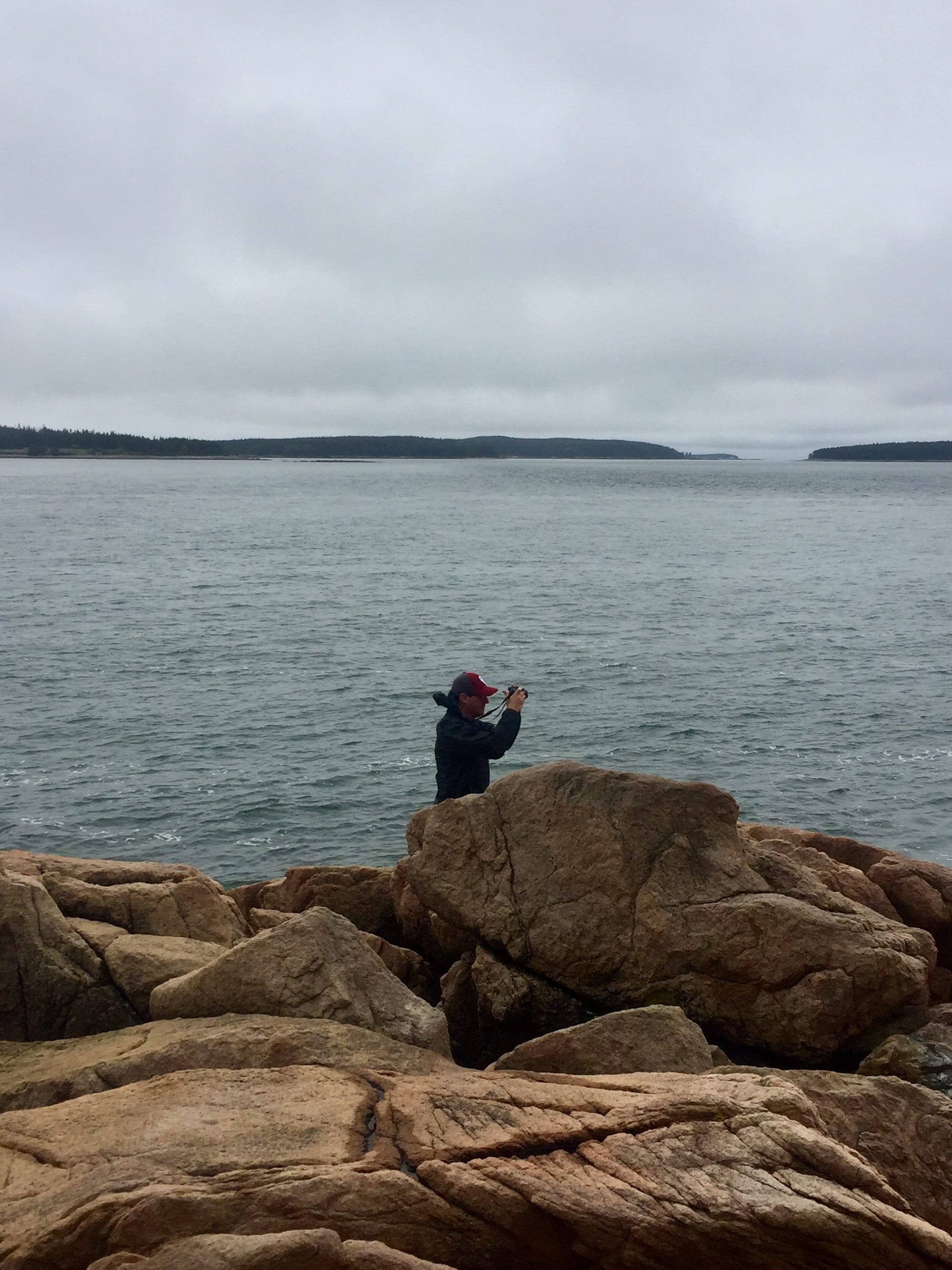 This is my husband getting the photo of the lighthouse.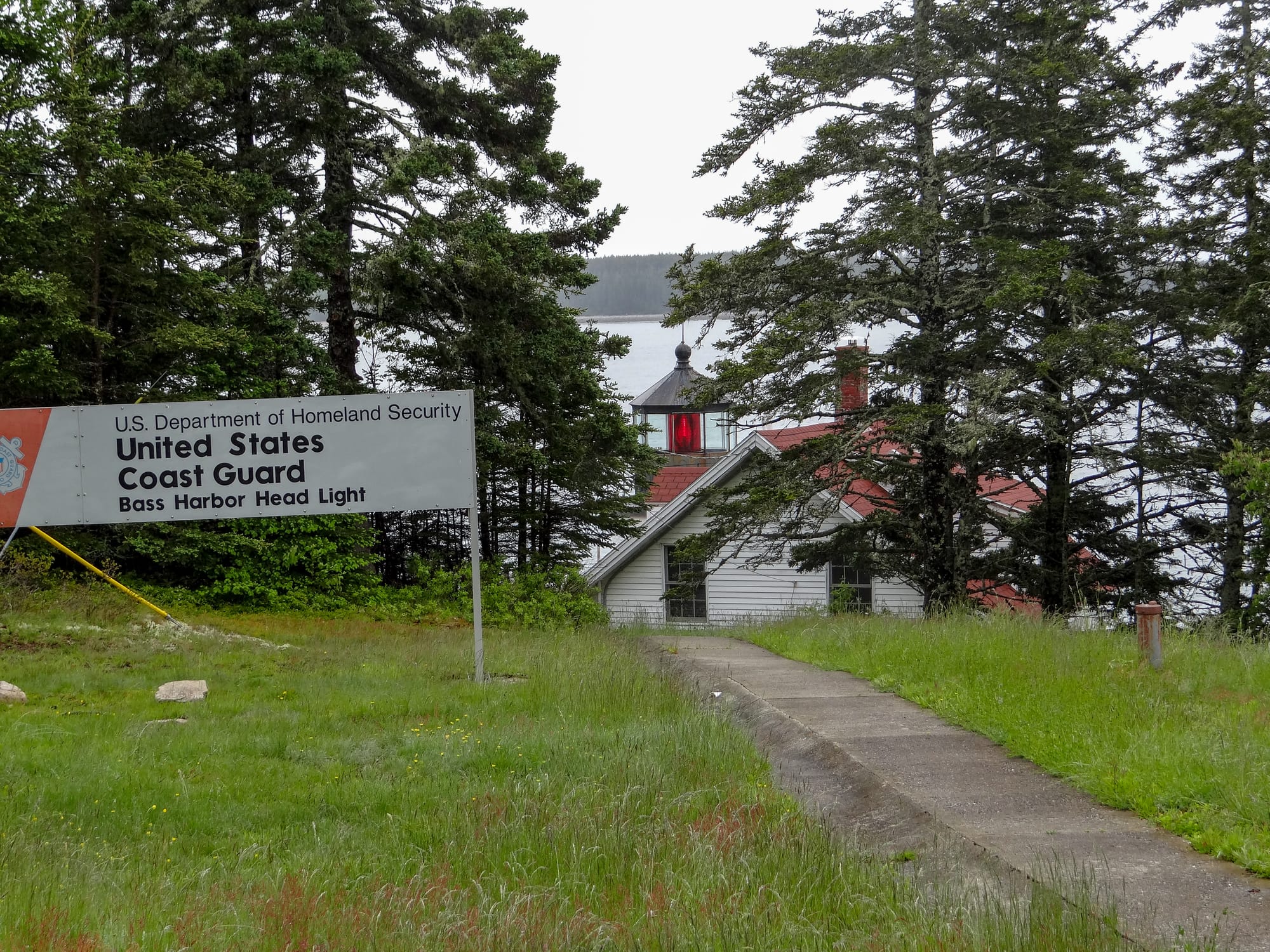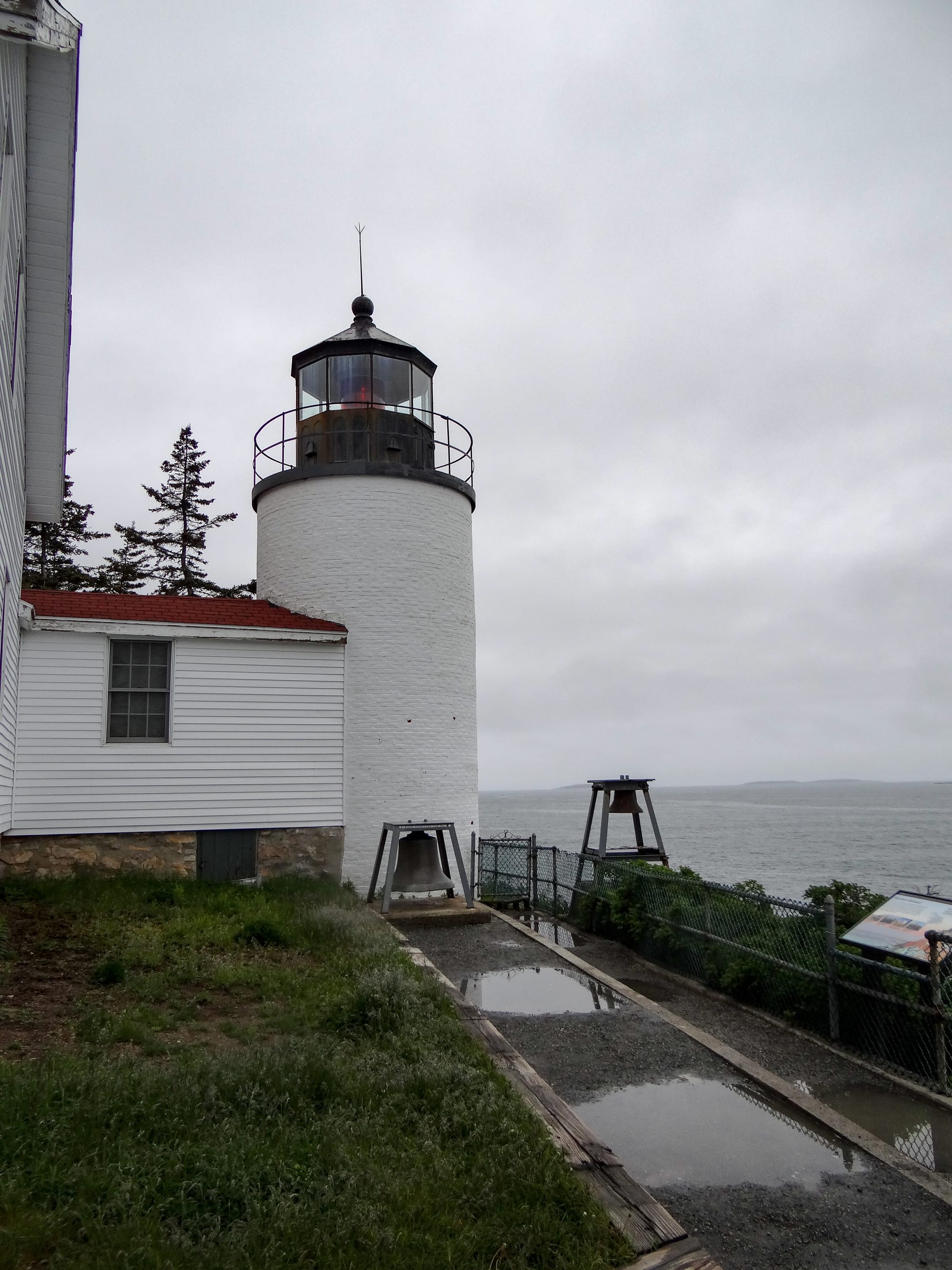 We hadn't spent much time at Sand Beach so we decided to hike a trail that runs along the far side of it. This was defiantly a hike! There were several rocks we had to climb up and over. It was not easy on my super sore legs! But it really wasn't too bad. You don't have to be in amazing shape to hike it. My proof of that is I was able to do it haha! I wish the weather had been clear because The view would have been amazing, but we still enjoyed it.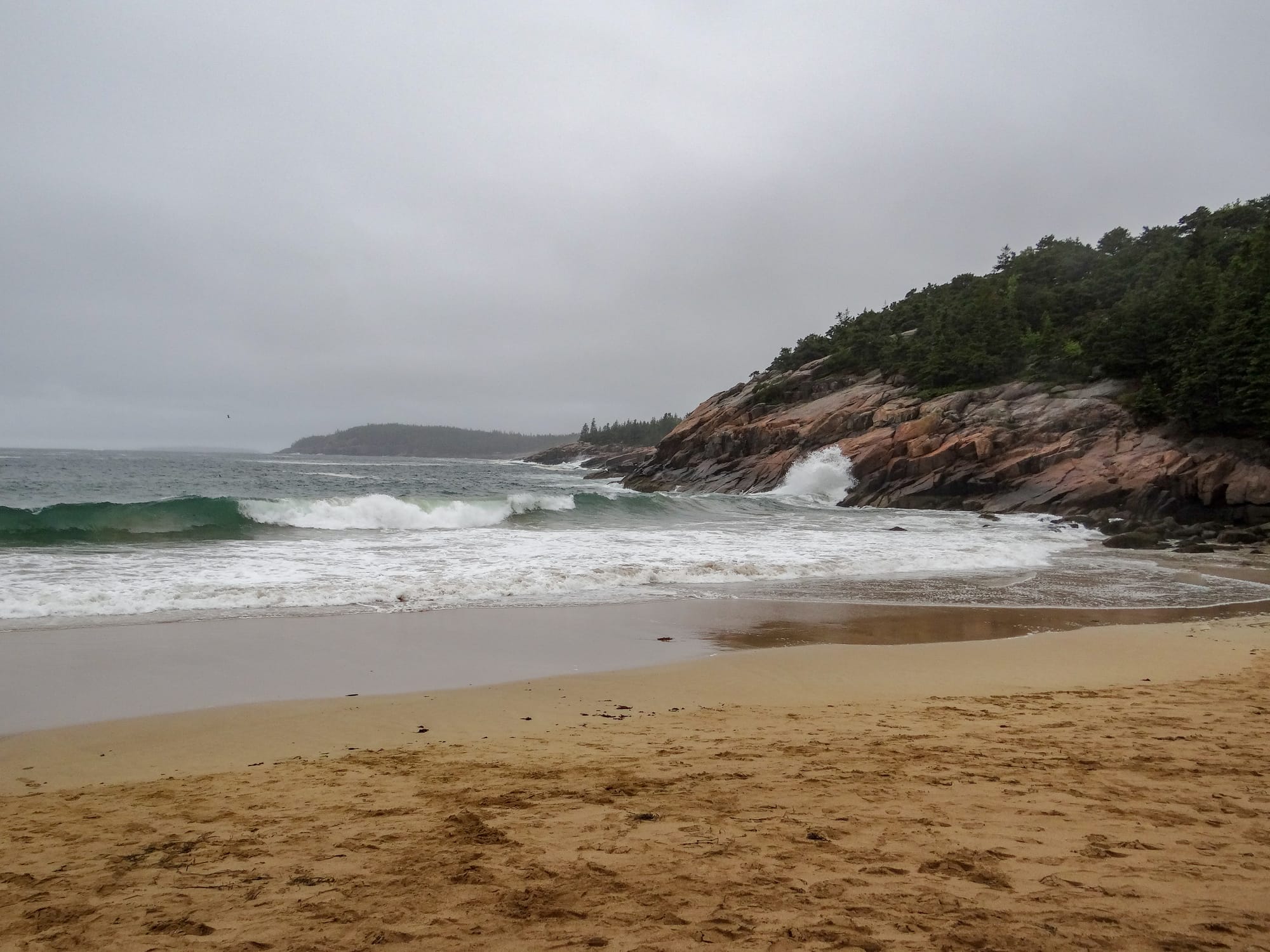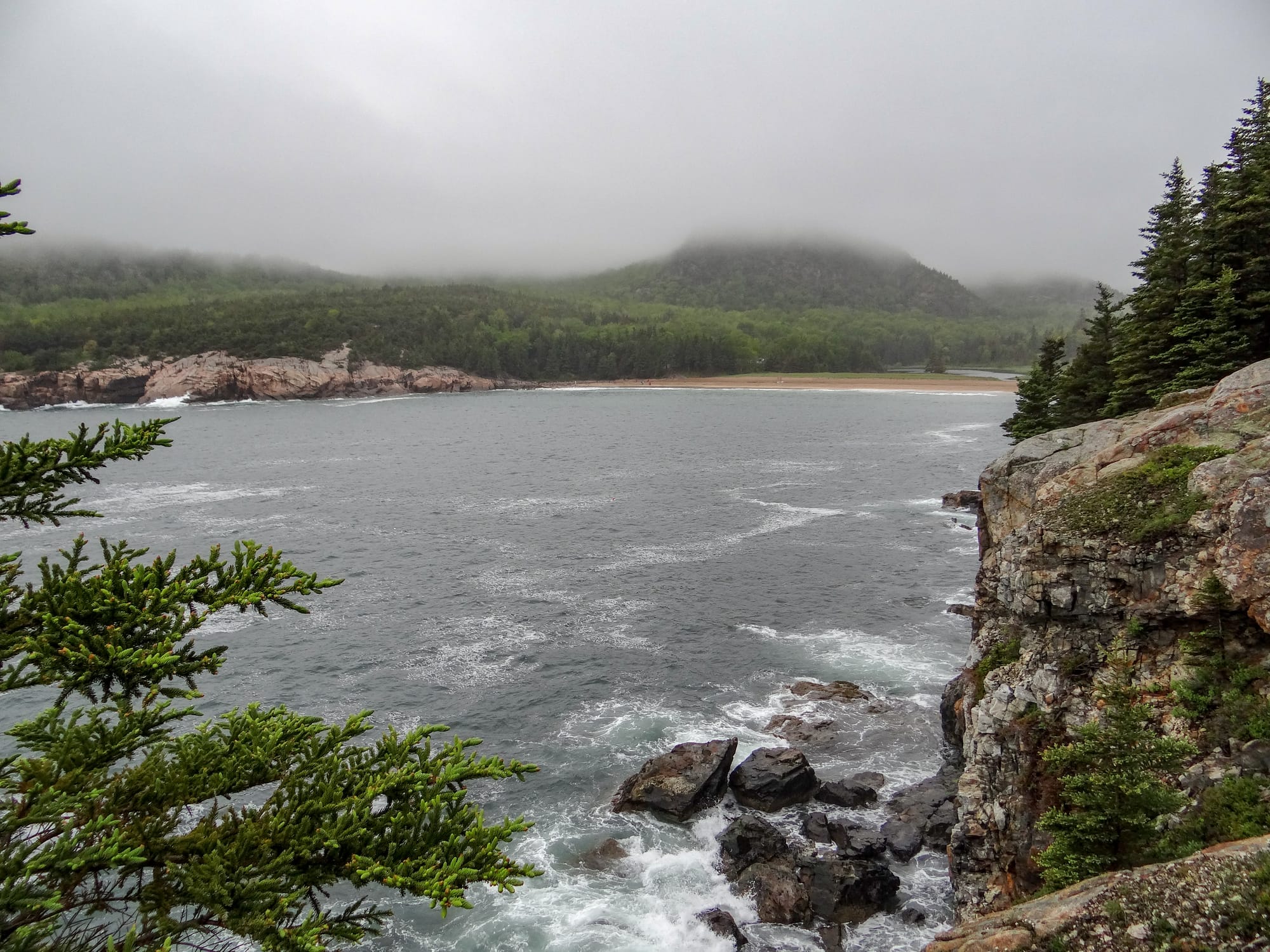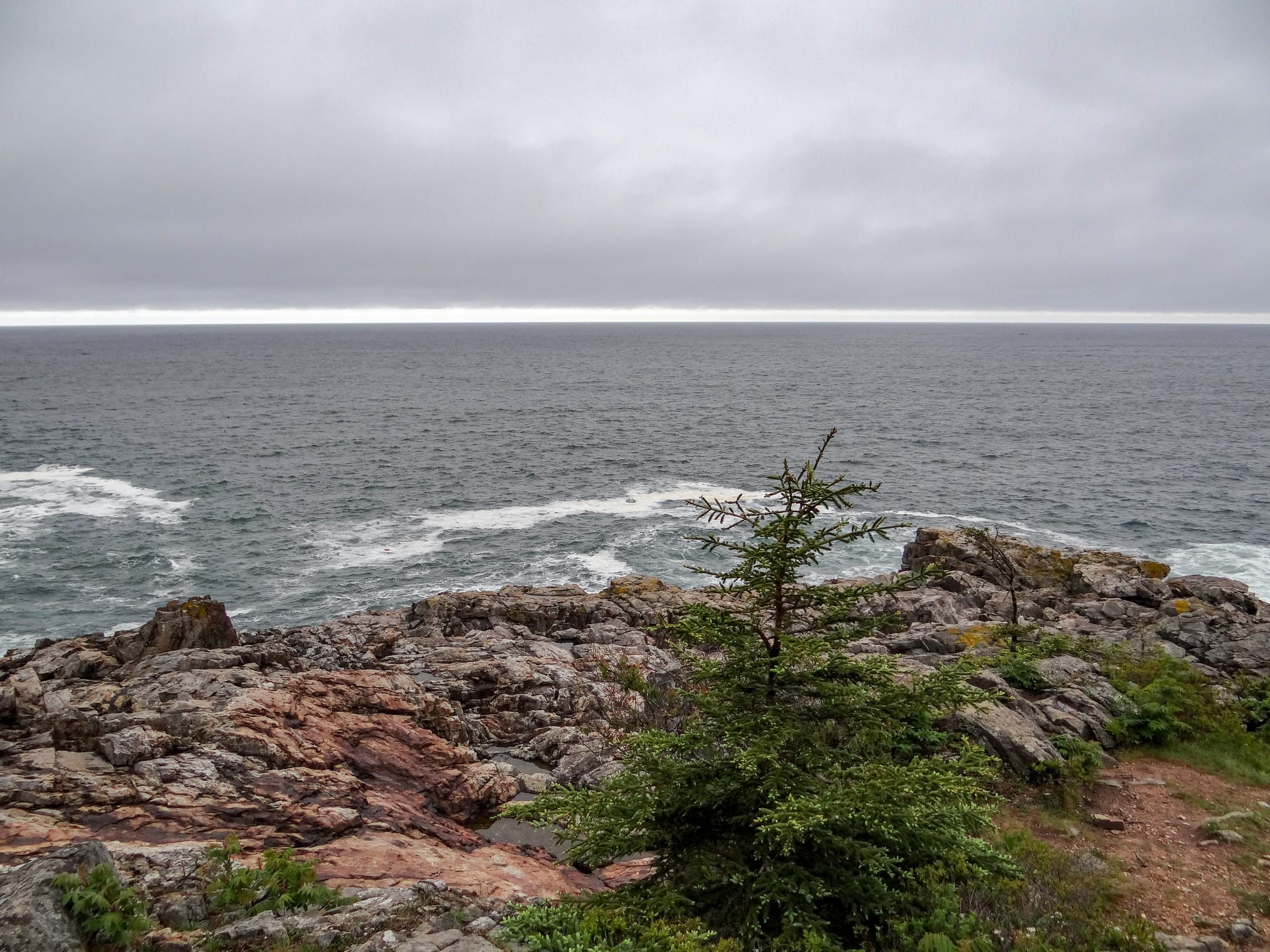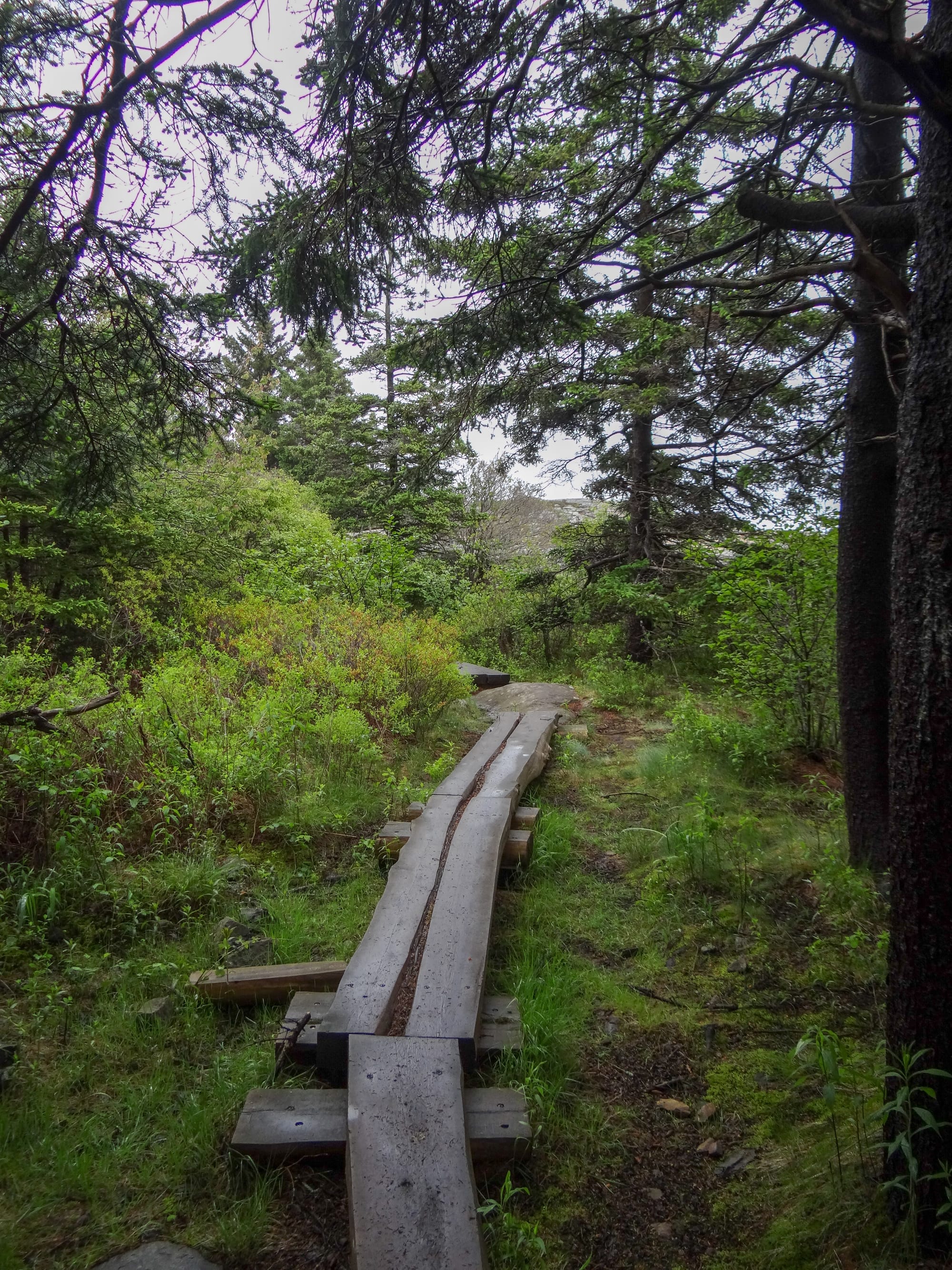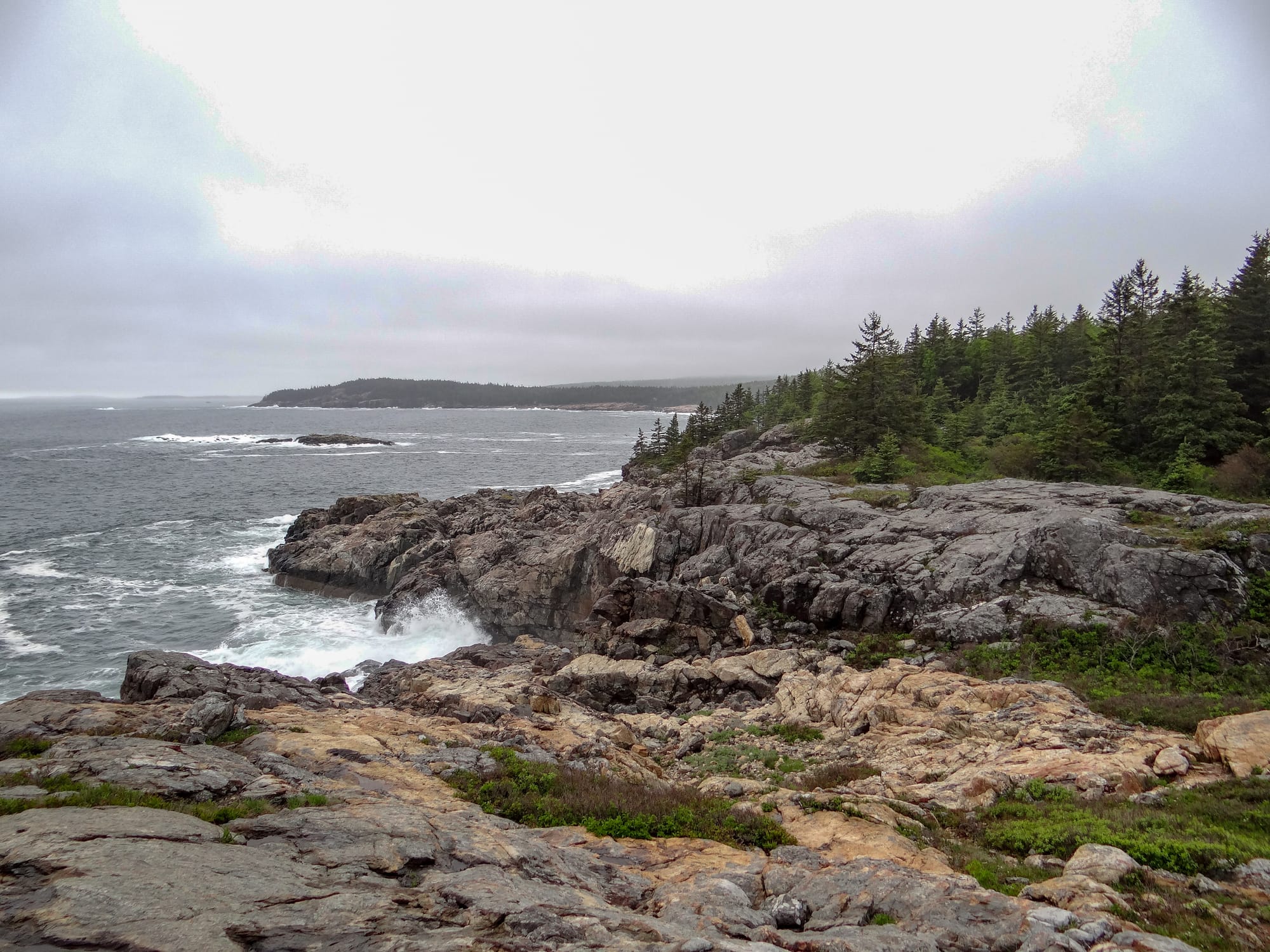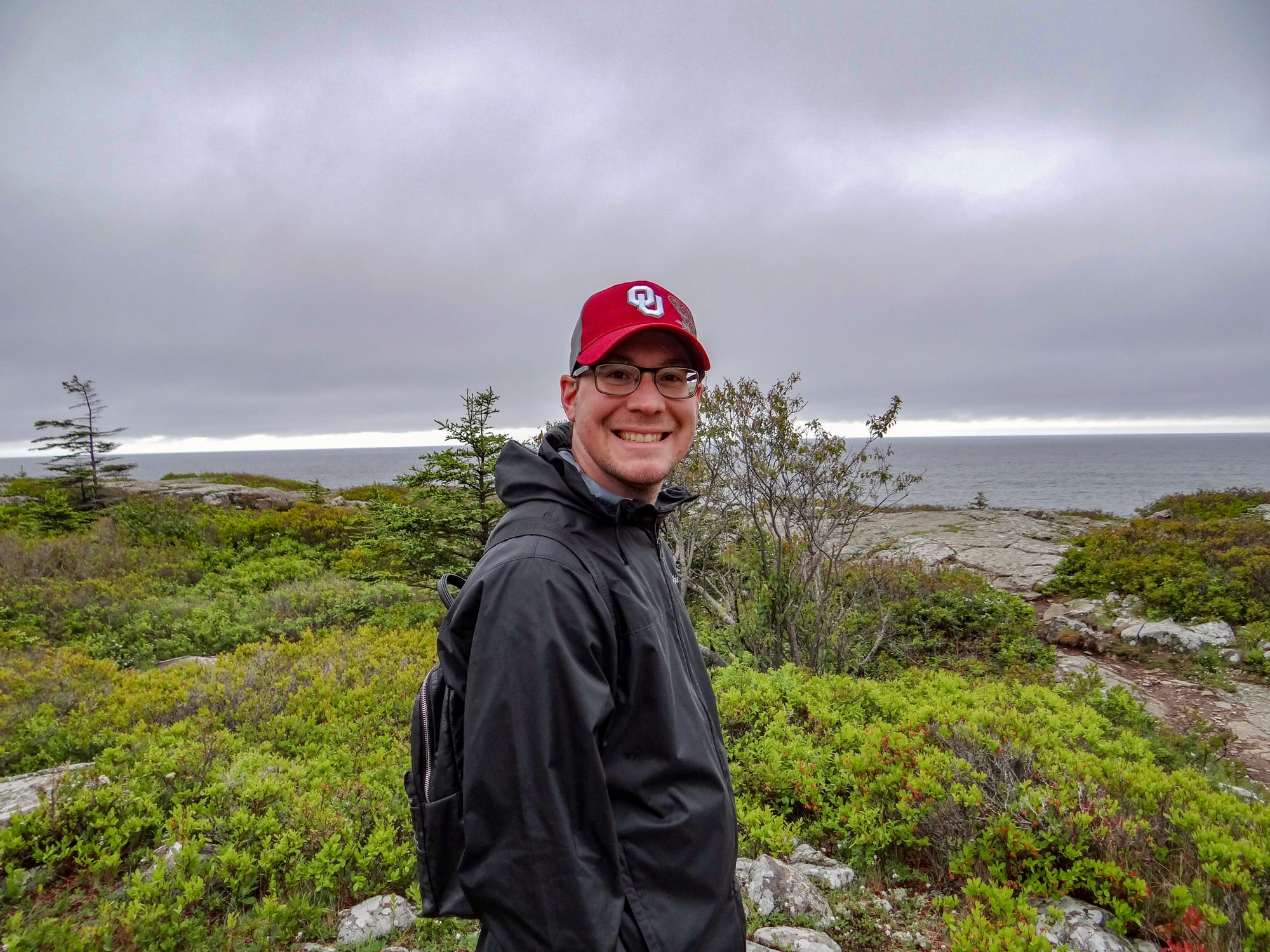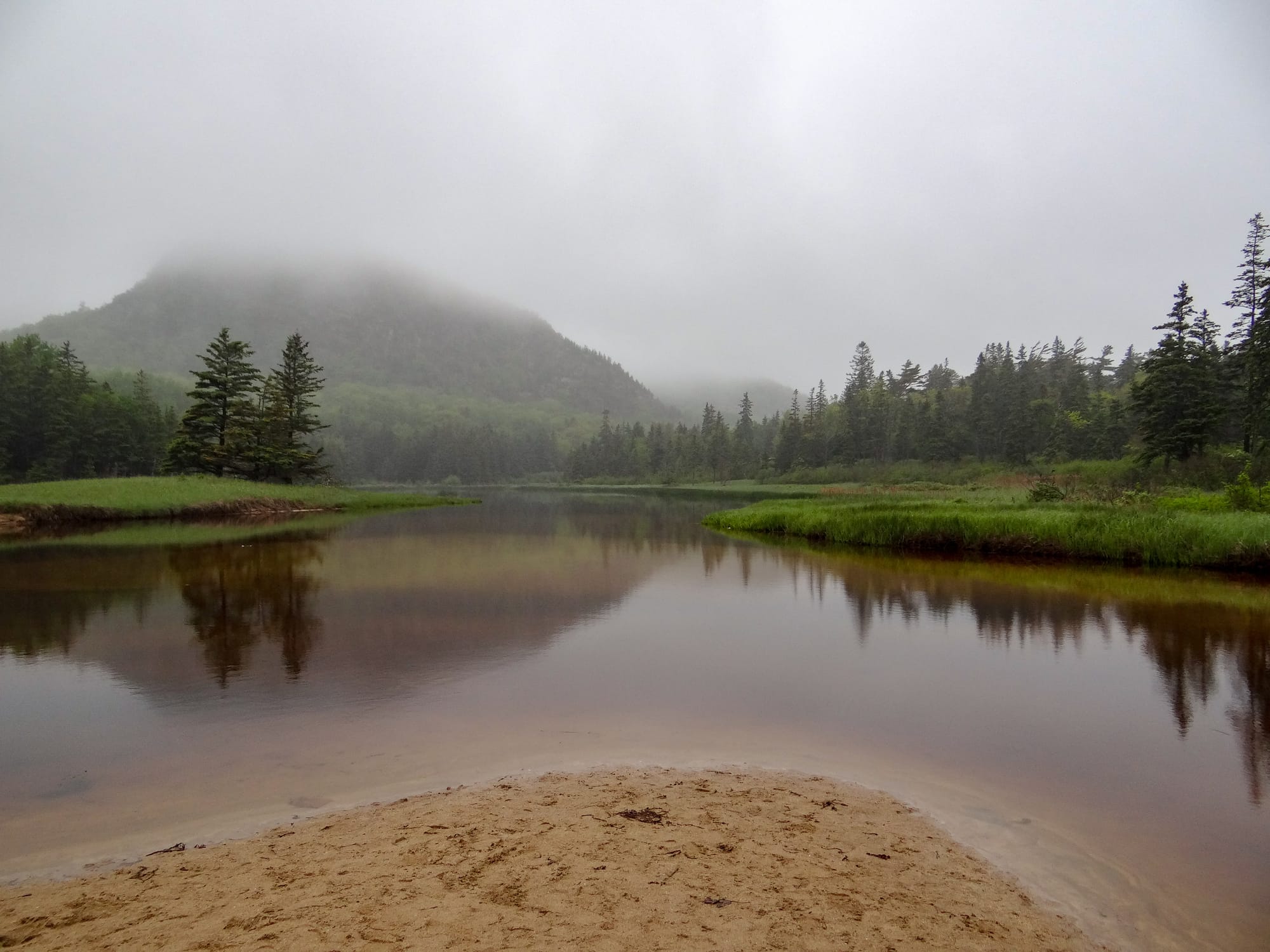 On one of the rainy days we went to the Schoodic Peninsula of Acadia. It is an overlooked portion of the park because it's separate and across from the island. It takes about an hour to get there from Bar Harbor. I wanted to go and see the look out point called Ravens Nest. It was beautiful!! There is not a park sign for the look out point so make sure to put it in your google maps! There will be a tiny area on the left side of the road to pull off and park. If you didn't keep an eye on the google maps as you are driving you will probably miss the pull off. I know we did the first time we went looking for it. Once you park, cross the street and you will see a small path. Follow it down for some awesome views!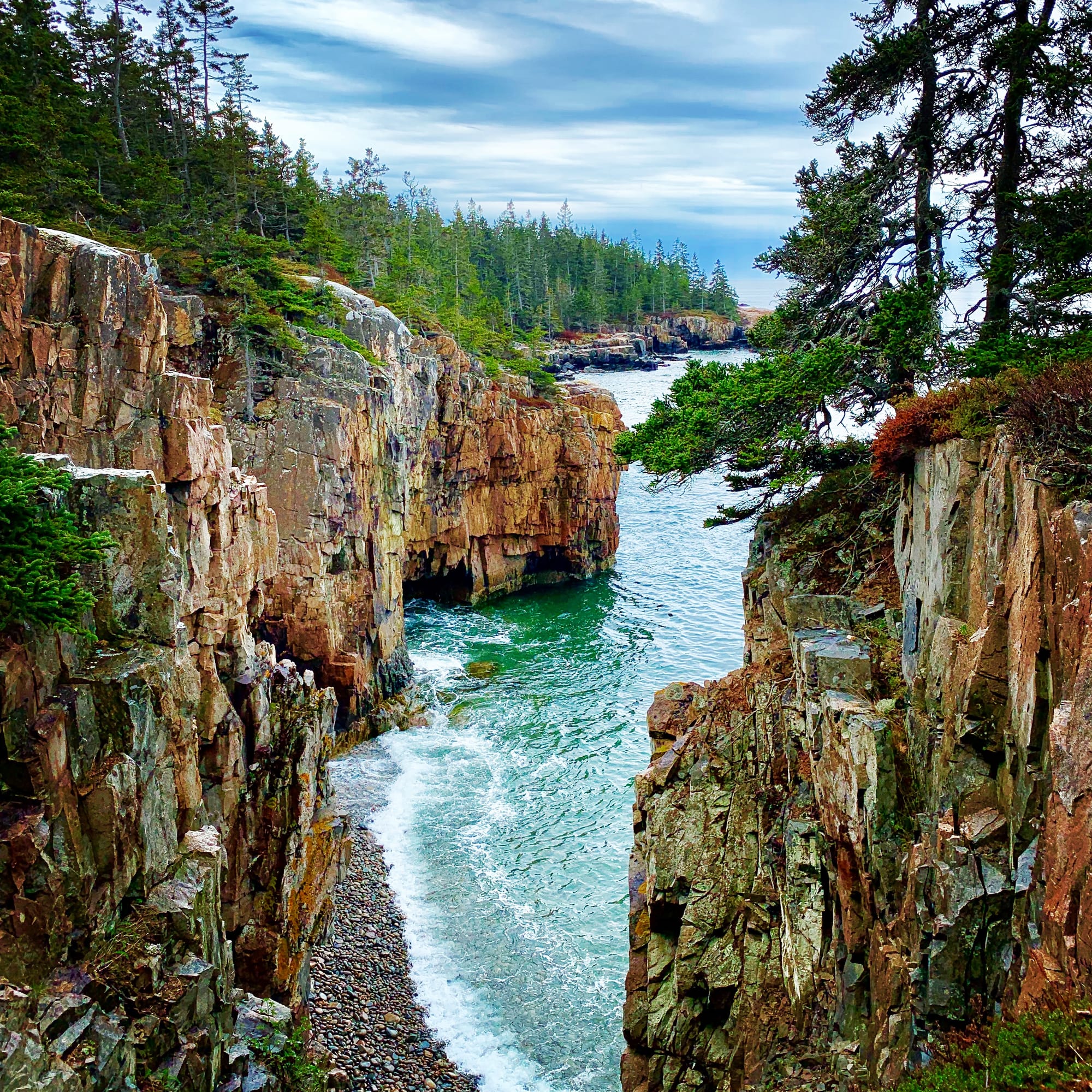 If you are planning your trip to Bar Harbor, I hope my experience has helped. Take time to breathe it in and feel small in your surroundings. It's good for your soul! Here are a few other random photos! Enjoy your trip and let me know how it goes!!
With much love- Abbie